Suffer Two Bitchy Orgasms – Aballs And Cock Crushing Sexbomb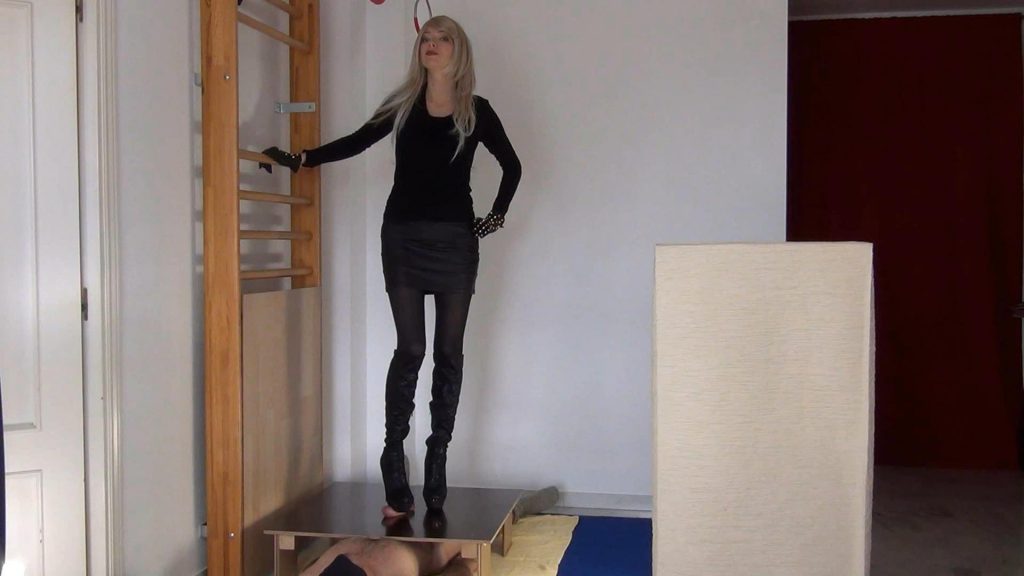 Mistress Alina has dressed totally in black: A tightly fit top, leather skirt, pantyhose, studded leather gloves and her new ultra high Buffalo overknee boots. And she has made up something special for her slave. "I will torment you with my gloves, I want you to cum on them, I want you to suck your cum from my fingers and then I want you to cum again under my boots."
With a thrill of anticipation Alina walks onto the stage and teases her slave, who is caught under the board, with her boots. "KISS MY SOLES!"
Solwly Alina sits down and with her gloves she plays with her slave toy. She strokes his face, his upper body and his crotch that is stuck in the hole of the board. And bit by bit she increases intensity. " Mmh – do you like it, when I rub your cock with my gloves?" "Do you also like this?" PUNCH! Right in the groin area – The slave groans, but ALINA LAUGHS. "This is not a petting farm!"
The Goddess puts off her gloves and WHIPS HIS COCK with the mean studded leather gloves, making loud slapping noise. That really seems to hurt. The slave squirms with pain under the board, he groans but Alina enjoys.
Next she puts on her gloves again but she puts them on inside out – And with the rivets on the palms of her hands she gives him a ROUGH HANDJOB. By turns she torments and caresses his dick. She circles her finger on the top of his glans, making her slave crazy and takes him short before his climax. Just to beat it again. "Don't dare to cum too fast!"
Alina stands up, walks towards slave's face and sits down right on his mouth giving him a SMOTHERING FACE SITTING lesson while she RUBS AND BEATS HIS CROTCH IN A CRUEL WAY. The slave tries to scream, but he only gasps out some weak groans under Alina's bottom.
The Mistress stands up again and SITS DOWN RIGHT ON HIS BALLS before she continues playing with her hands and goes on with her carrot and stick game. And then she decides to make him cum "a bit". The Mistress rubs his cock tough with her hands and immediately before he wants to shoot out his load she stops and holds her hand under his cock. "IF YOU CUM ON MY GLOVES, YOU MUST EAT YOUR CUM". But she has gone too far. The slave cannot retain and A BIG STREAM OF SEMEN RUNS OUT OF HIS COCK RIGHT INTO THE PALM OF ALINA'S HAND.
Without being touched by the Goddess, the slave SUFFERS A RUINED ORGASM with his cum running down onto Alina's glove and he knows what it means. "OPEN YOUR MOUTH!" ALINA POURS HIS CUM RIGHT ON HIS MOUTH. In disgust the slave takes it but Alina is merciless. With her cum covered glove SHE CREAMS HIS ENTIRE MOUTH, BEFORE SHE PUSHES HER CUMMY FINGERS DEEP INTO HIS MOUTH. Look how much she enjoys the dominance she has over him.
"By way of punishment for cuming onto my glove I will crush you under my boots."
Alina steps on the board right before her slave's face and forces him to kiss the soles of her boots. And then she steps on his wet and soft cock, squeezing out some more cum with her weight.
Several times she walks with her hot boots over his meat. Now the cock is covered with slimy cum. Alina stomps and rubs his genitals and soon his cock grows again. And now the cock and ball abuse begins in earnest.
These boots are dangerous. With rock hard platforms and 6″ / 15 cm spiky stilettos. Alina knows exactly how to use them on helpless genitals and she will trample the living daylights out of them.
THE MISTRESS STOMPS HIS MANHOOD BRUTAL AND ENDLESS. She rubs it rough under her soles. WITH ALL OF HER 145 LBS / 66 KG SHE CRUSHES IT ALMOST FLAT. SHE PIERCES HER HEELS INTO HIS FLESH, leaving PAINFUL MARKS and GRAZES OF SKIN.
And again she plays carrot and stick with her slave. In-between all of her cruel treatment we almost can call her "nice", when she sits down and tenderly strokes his vulnerable parts with her hands or gives him a BOOTJOB, only to surprise her slave the very next moment with a new dirty trick, taking his breath away.
Alina with her unique playfulness is completely in her element. The slave must take whatever comes across her mind and after more than half an hour, the Goddess decides to finish him.
Standing on the board, the Mistress places both of her stilettos right on her victim's glans and SINKS DOWN WITH HER HEELS RIGHT ON THE MOST STIMULATING SPOT – DEEP AND HEAVY, CAUSING DREADFUL PAIN. Now she moves her heels up and down and with each move she takes her slave somewhere between heaven and hell, driving him crazy. And Alina will not stop before she has taken him to the climax.
Then the slave cums in an absolutely PAINFUL ORGASM. He JERKS, he GROANS, he GASPS FOR AIR, but Alina doesn't release him. AGAIN AND AGAIN SHE BORES HER HEELS INTO THE CLIMAXING GLANS, MILKING HIM COMPLETELY EMPTY.
But even when she finally lets it off, Alina still isn't done. She kneels down covers her finger with his cum and again she pushes it deep into his mouth. "POOOOR SLAVE – HOW MUCH CUM YOU HAVE TO EAT TODAY…hehe". After all Alina wipes up all of his cum with her gloves, takes them off and STICKS THEM INTO HIS MOUTH. She pinches his balls stands up and leaves her humiliated victim.
File Size : 1.15 GB
Runtime : 34min 42s
Resolution : 1920×1080
Format video: MP4
Preview: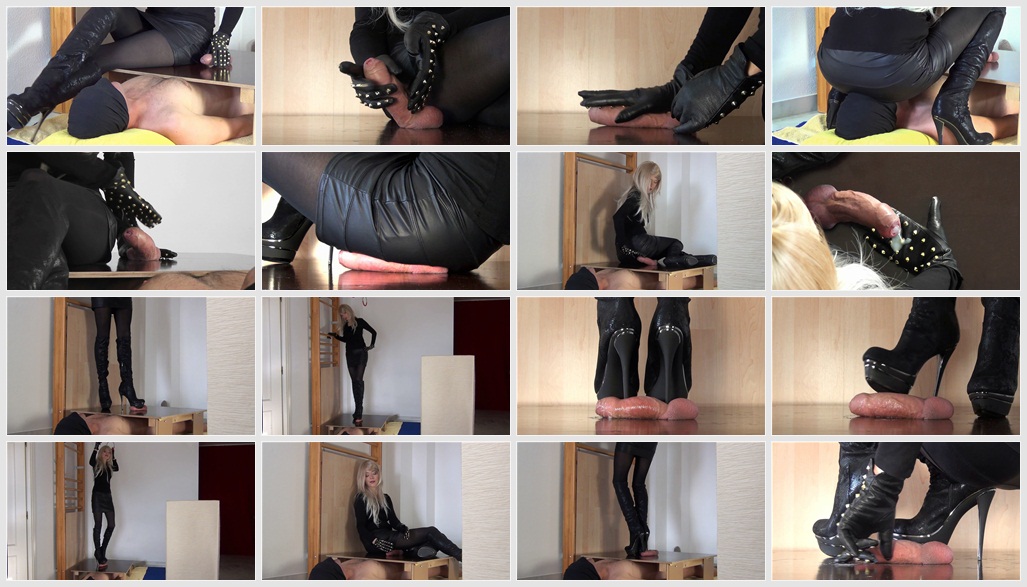 Download link:
https://k2s.cc/file/2ec06f26b45b9/Suffer_Two_Bitchy_Orgasms_-_Aballs_And_Cock_Crushing_Sexbomb.mp4
---