Ball Crushing Forced Ejaculation – Aballs And Cock Crushing Sexbomb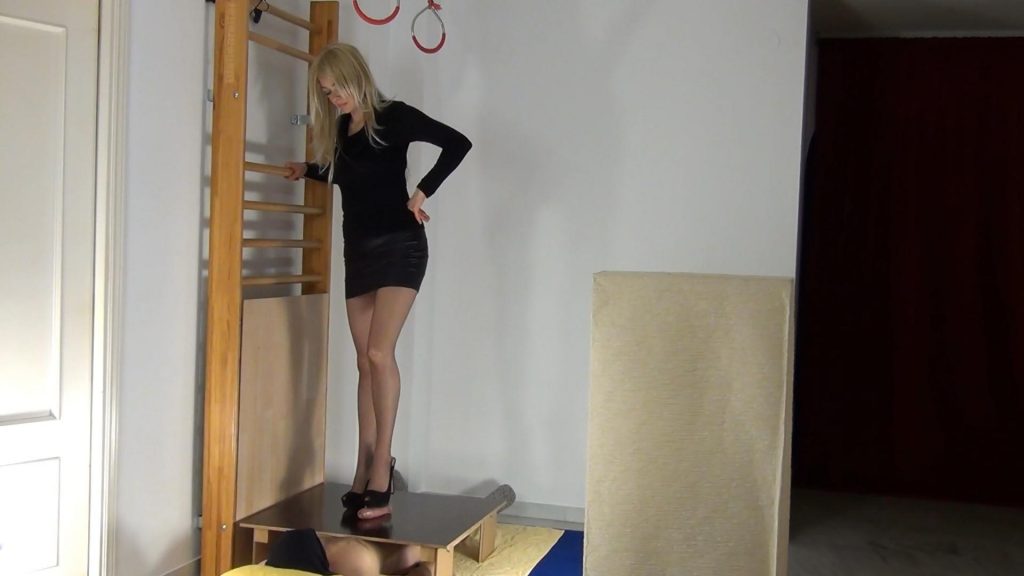 Mistress Alina has found these awesome 6″ / 15 cm slingback platform high heels on her last shopping quest and fell in love with them immediately. In these heels Alina is a 6.3 ft / 195 cm TALL GIANTESS.
When the Goddess enters the room the slave is hooked and scared at the same time. She looks so awesome with her endless long legs in sheer black pantyhose, her mini skirt and her black top. And these shoes look so dangerous. How much damage can they cause to his genitals, lying exposed on the cock table. And he knows that they will…
Alina steps on the board and walks around his crotch and very soon she will play with it how only Alina can do. She knows exactly how dangerous these high heels are but she is dauntless – after all it's not her meat lying there. For the next 24 minutes she will give her slave another unforgettable cock and ball trampling lesson. Enough time to left nothing out: Lots of PAINFUL PRESSURE FROM HEELS IN COCK AND BALLS, FULL WEIGHT standing on crotch, walking over his meat, SHOEJOB, COUNTLESS BRUTAL STOMPS ON ON DICK AND NUTS, BULLBUSTING until the slave SCREAMS WITH PAIN and the MISTRESS LAUGHS, and much much more.
See the BIG BRUISE that Alina causes in his dick, see the GAZES that leave HER SHARP HEELS in his flesh, see the DISCOLORATION and the FOOTPRINTS of her platform soles after STANDING ON HIS MANHOOD WITH HER WHOLE WEIGHT.
Watch Alina placing the platform of one shoe right in the middle of slave's ballsac and pressing it down. The balls try to escape, but there is too little space. They have to take so much of Alina's pressure. Slave's scrotum skin is clamped between Mistress' shoe and the board and his cock bends up from the pressure on his sac. Now Alina lifts her other foot and while she is CRUSHING HIS TESTICLES, she plays with her heel and with her sole with slave's cock.
The slave groans, but the Goddess is unimpressed, to the opposite he will have to take the pressure on his sac for TWO FULL MINUTES while she rubs his cock with her heel and sole. "I will do this until you cum!" Then he cannot resist any longer and cums in a painful orgasm. Probably Alina is standing on his spermatic cords, because at first only a bit of his semen runs out. When Alina finally releases her pressure from slave's scrotum you will see what the cruel Mistress has caused. His BALLS ARE BLUE AND DEFORMED.
But Alina doesn't care. She RUBS AND STOMPS her slave's crotch and now the rest of his CUM RUNS OUT OF HIS RUINED GENITALS. Alina steps in the cum puddle and with his sperm under her sole she thoroughly CREAMS the rest of HIS BALLS AND COCK. According to slave's groaning, each contact with his balls hurts, however soft it may be, but he must take that as well – including a few more mean stomps of the SADISTICALLY SMILING MISTRESS.
Size: 896 Mb
Duration: 24:18 min
Resolution: 1920×1080
Format video: WMV
Preview: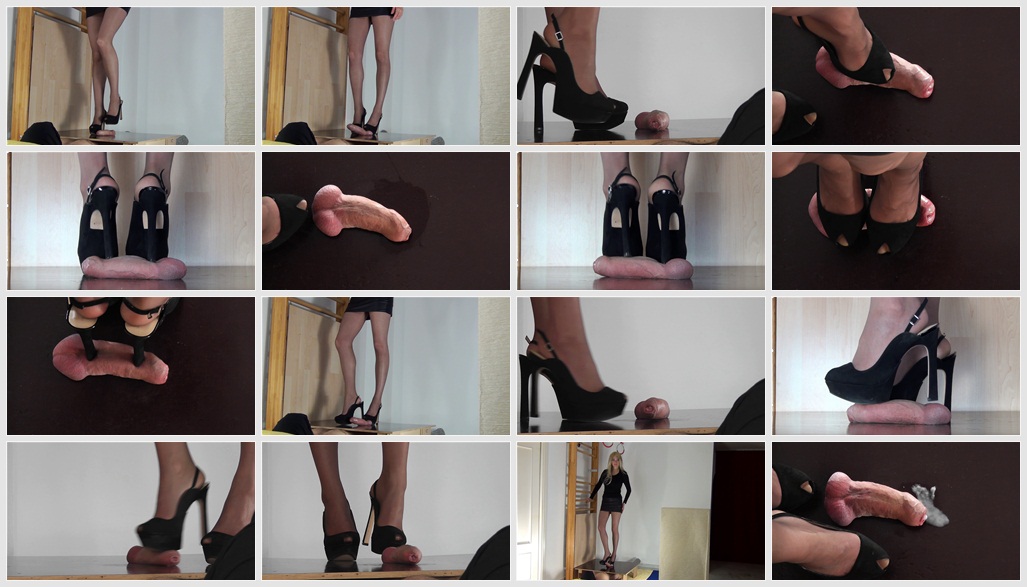 Download link:
http://k2s.cc/file/9ae63294a0077/Ball_Crushing_Forced_Ejaculation_-_Aballs_And_Cock.wmv
---