Ballbusting And Climax Dance In Steel High Heels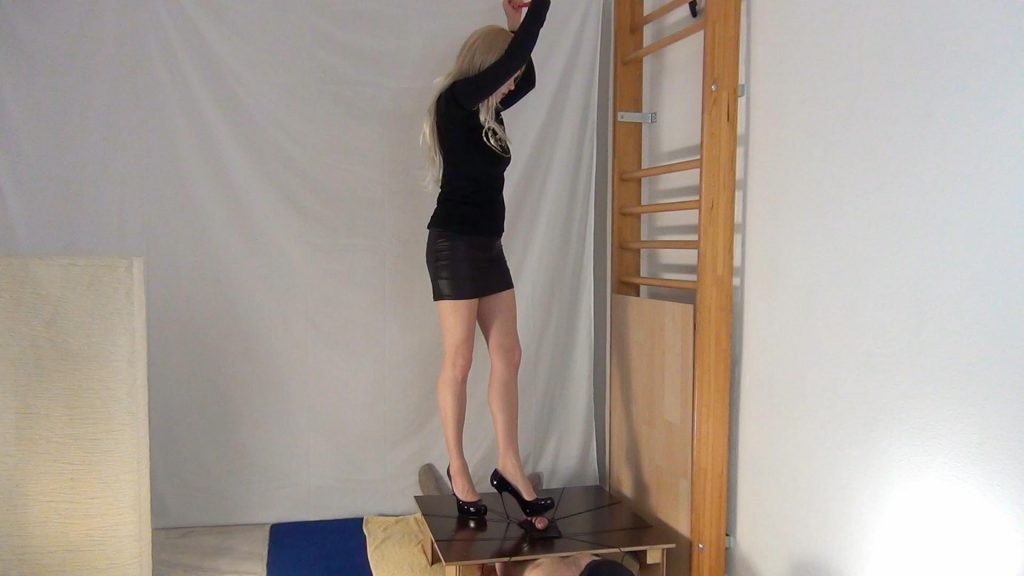 Mistress Alina has got some new shoes. Ca. 6″ / ca. 15 cm spiky steel stilettos, platform, patent leather, red soles. When she saw them, she immediately fell in love with them and she couldn't wait to try them out on her slave.
Like a threat she has placed these shoes on the cock board and the slave had to wait for her, with his cock and balls bound on the board. He had all the time in the world to watch these shoes and to imagine how much damage Alina could do with these stilettos to his genitals.
Now the Mistress enters the room. She is wearing her tight "badwoman-shirt", a very short leather skirt and sheer pantyhose and she seems to be really excited about this session.
But first she starts with some pantyhose cock and ball trampling. The goddess lets him feel her soft nyloned feet and works his genitals with all of her pressure.
Then she slowly slips her feet in the high heels. Now she is almost 2 m tall (~6.5 ft) – her legs look endlessly and soooo sexy! And the first thing that she does now is boring one spiky heel right into slave's scrotum to give him an idea of what expects him today. Never before the slave has had to feel such spiky heels in his ballsac.
And this is just the beginning. What follows now for the next 26 minutes is a fireworks of Alina's playfulness. Lots of full weight standing and dancing on slave's manhood – sometimes nearly for one complete minute without releasing her weight. Strong stomps on cock and balls. Sexy moves and hot glances in the camera – sometimes seductive, sometimes dominant. Trampling with heels on his manhood, leaving little spots allover his cock and balls – once she almost impales his right ball – ouch!
Soon Alina has her slave on the edge of cuming, but like a cat plays with a mouse she lets him wait. "Suck my heels" and she pushes them deep into his mouth.
The goddess takes off her shoes and now she steps on his cock and balls lengthwise. Look how much pressure his balls must take under her toes. But that is just a 2 minutes interruption. In a sexy way Alina puts on her shoes again and continues her treatment in high heels – with brutal stomps – the slave groans, but Alina doesn't care. "Oops did I hit your balls?"
Time for the final: Once more the Goddess steps on slave's genitals. With her right foot she is flattening his glans and her left foot is dangerously close to his testicles. In this position she starts marching with both heels in the air – she bounces and then she dances – all the time full weight on his manhood and she will not stop before he cums or she has broken his cock.
Then he cums under the dancing Mistress. He groans and jerks and Alina enjoys the feeling of dancing on the cuming slave's genitals until his orgasm is over. She steps off and busts out his cum. First she hits only his cock but with the next stomp she beats the cum out of his balls. The slave groans but Alina is merciless.
With her stilettos she crushes his semen and then she moves her heel right above slave's mouth. "Eat your cum from my heels! – Mmmmh – Take some more… hehe" And then she tramples the rest of his sperm on the board until it sticks to her soles. Slowly Alina undresses her shoes, she touches his little dick with her feet again and then she leaves.
Size: 1,35 GiB
Duration: 28:47 min
Resolution: 1920×1080
Format video: mp4
Preview: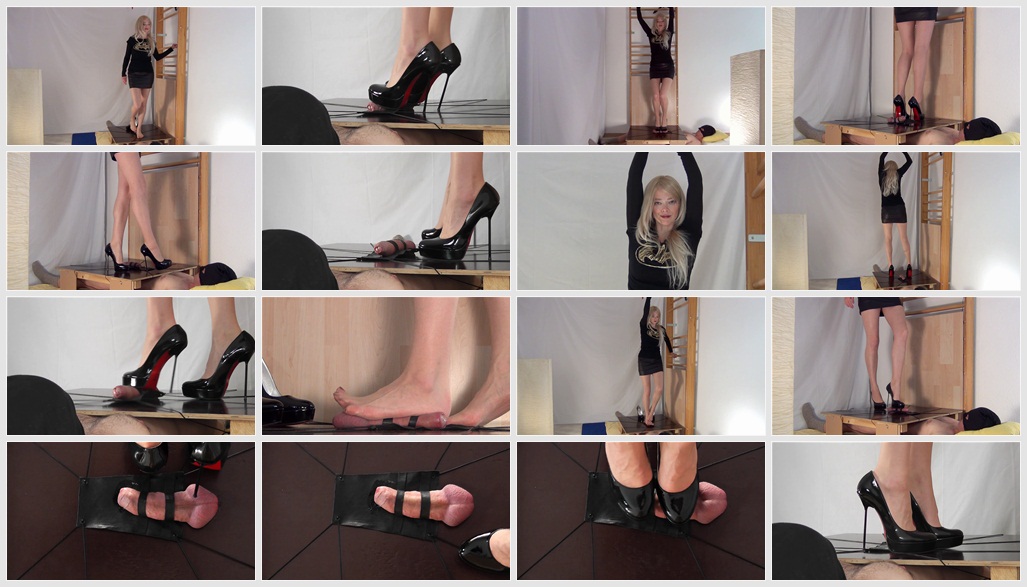 Download link:
http://k2s.cc/file/7daefe698906a/Ballbusting_And_Climax_Dance_In_Steel_High_Heels.mp4
---