My New High Heels Destroy Everything – Aballs And Cock Crushing Sexbomb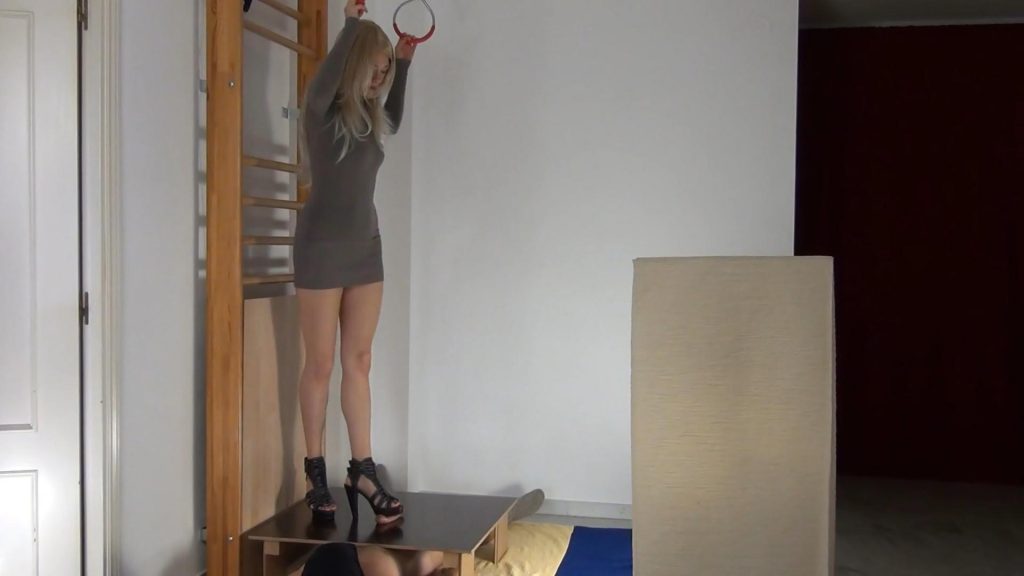 Alina enters the room with a shoe box and sits down on her slave's genitals, lying exposed on the board. She opens the box and with a thrill of anticipation she watches her new high heel sandals. Then she puts them on while she crushes her slave's cock and balls under her hot bottom. She allows her slave to smell and feel the profile of her new shoes, because she places them right in his face while she puts them on. "Do you think they hurt? I'm sure they do!"
The Mistress stands up – but what is that? She turns the empty box and places it right over his cock and balls. She steps on the board right behind the box and with a powerful stomp she treads on it – so hard, that her heel even bores through the cardboard. Smiling sadistically, Alina steps with her other foot on the box and now she tramples the box flat – ON HER SLAVE'S COCK AND BALLS!
The slave SCREAMS WITH PAIN, WHEN SHE STEPS ON HIS BALLS WITH HER HEELS, but Alina doesn't care. For two minutes he must endure her furious trampling on the carton. Then when it's totally flat, she kicks it away and uncovers his genitals. "Everything still intact? Hehe… – Let's see what they can take today…"
You will ask yourself – did she have a bad day or does she simply enjoy tormenting her slave like that? Like crazy she tramples, stomps and crushes her slave's poor crotch under these cruel profile soles. The longer this session lasts the more CRUEL FOOTPRINTS and SCRATCHES she leaves in his manhood. Again and again her slave hast to take her FULL WEIGHT somewhere on his dick or on his testicles.
It's simply awesome to watch her TRAMPLING WITH HER HEELS ON HIS FLESH, making almost mincemeat of it. We show you many of these hot scenes from the Mistress-POV. So you can clearly see all the prints and all the changing colors in his crotch and the longer she treats it like that the more red it gets.
Alina looks so sweat and so innocent while she is so cruel. Her endless long legs, her slim, trained body, her beautiful face, her red painted toes. In this clip you will see many exciting views of this hot Mistress.
It wouldn't be Alina, if she didn't always have new ideas how to torment her slave. You won't believe your eyes, when she steps lengthwise and only with the top of one sandal somewhere between her slave's cock and balls. HER WHOLE WEIGHT FLATTENS HIS MANHOOD and Alina stays in this position for a while. She even twists a bit and moves her weight back and forth. Other girls grind cigarettes this way, but what Alina grinds are real man's genitals. From the close view and from slave's POV you can see how flat she has made his hard cock – PROBABLY IT'S ONLY 0.2″ / 0.5 cm LEFT!
As if all of this wouldn't be enough, Alina even starts playing with her other foot with slave's glans. She rubs and teases his glans with one foot while she CRUSHES THE REST OF HIS GENITALS UNDER HER 145 lbs / 66 kg.
This way the Mistress manages to take her slave to the climax. He cums and exactly now she steps off. The slave is having a PAINFUL AND RUINDED ORGASM. He jerks, he groans and Alina watches him climaxing. We didn't miss to show you the DEEP FOOTPRINT THAT THE GODDESS HAS LEFT IN HIS MEAT, neither we didn't miss to show Alina watching her victim in a mixture of curiosity and success.
When all of his cum has run out, Alina kneels down and strokes his cock and balls with her hands. Somehow she admires him. He still can cum after all of this rough treatment. But that was just a short moment of softness. Again she stands up and with a firm tread she steps into the cum puddle. She even DESTROYS ALL OF HIS CUM UNDER HER PROFILE SOLES before she leaves.

File Size : 974 MB
Runtime : 23min 46s
Resolution : 1920×1080
Format video: WMV
Preview:


Download link:
https://k2s.cc/file/b35975d8c08d4/My_New_High_Heels_Destroy_Everything.wmv
---