No Mercy For The Hurt Cock
Alina looks so hot in her fishnet top, bare legs and barefoot feet in high heel latex sandals. And she is absolutely dominant, cruel and unimpressed by the damage that she causes under her stilettos. Even when she CUTS her slave's glans with her sharp heel, causing a RED WEEPING WOUND, she doesn't show a bit of mercy with her suffering slave.
To the opposite his genitals have to carry all of Alina's weight. The cut glans could be damaged even more under the pressure. And there is so much in this session. It's almost unbelievable how much full weight trampling of his cock and balls the slave must endure today. FOR MINUTES HE MUST TAKE ALL OF HER 145 LBS / 66 KG. And she is not only standing there on his crotch, she BOUNCES, ROLLS BACK AND FORTH, and when she finally releases her weight, she JUMPS off his genitals, applying incredible impact.
When the Mistress tramples slave's flesh with her STILETTOS you will caught your breath. Dose she want to make mincemeat of his cock and balls? The cock bends up while Alina almost PIERCES it. The heels sink down in slave's scrotum. The slave groans with pain and squirms under the board and from the Mistress POV camera you can see the DEEP SPOTS, that she leaves in his dick and in his ballsac.
Countless cruel STOMPS, endless walking over genitals, sexy posing and many times Alina's top rucks up, and she shows us her HOT BOTTOM.
After more than 20 minutes of merciless treatment, the Mistress decides to finish her slave with a FULL WEIGHT ON GENITALS DANCE. One sole rests on his WEEPING GLANS while the other sole rests somewhere between COCK AND SCROTUM, SQUEEZING SLAVE'S BALLS. And in this position, Alina bounces, rolls and dances, but her heels never touch the ground.
The slave takes it for almost a minute and then he surrenders. JERKING, CRYING and SQUIRMING he experiences an ABSOLUTELY PAINFUL CLIMAX UNDER THE WHOLE PRESSURE OF HIS MISTRESS and Alina doesn't even think about stepping off now. She makes him almost collapsing under her feet and only when his orgasm is finally over, she releases her weight and only now the cum can run out.
Now all the destruction that the Goddess has caused comes into the picture, but unimpressed she turns around and with some MEAN STOMPS RIGHT ON HIS COCK, she KICKS OUT THE CUM and finishes him off completely.
But Alina still hasn't enough. Now it's his cum that she tramples under her feet and the slave must watch her DESTROYING ALL OF HIS SPERM UNDER HER HIGH HEELS. After dancing in the cum and wetting her soles and even her toes, she goes away.
Size: 1,13 GiB
Duration: 29:15 min
Resolution: 1920×1080
Format video: WMV
Preview: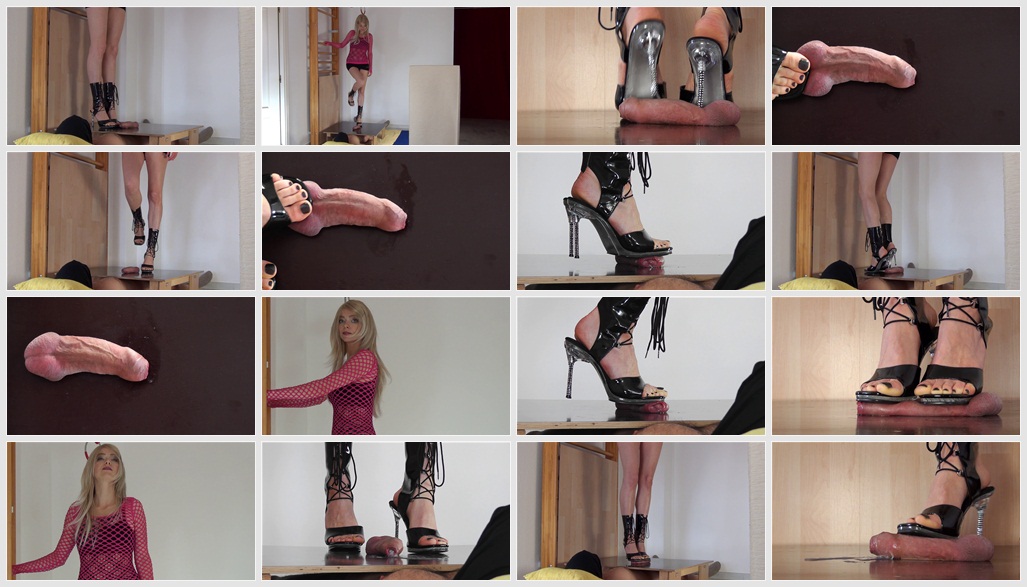 Download link:
http://k2s.cc/file/ea6d16156d644/No_Mercy_For_The_Hurt_Cock.wmv
---