The Hurt Cock Is Denied To Cum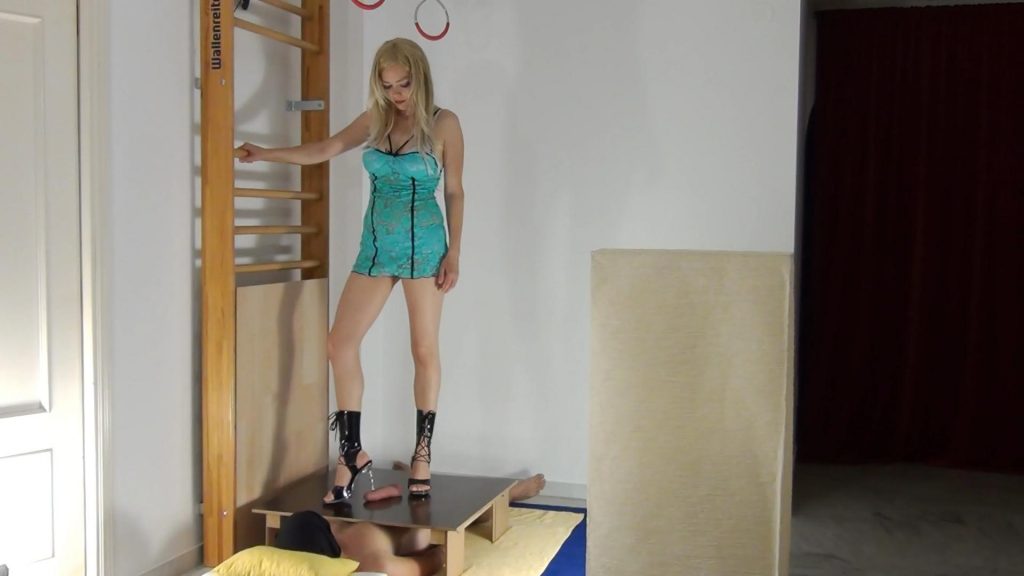 Today Mistress Alina is wearing a shiny negligee n some hot latex lace-up stiletto high heels. She looks so stunning in this outfit and on top she is in the perfect mood to cause physical n mental pain to her helpless slave.
Without giving her slave much time to get used to her weight she walks over his soft flesh as if it's just something that is in her way. To make him hard she plays with his genitals as if they were a gas pedal and smilingly she notices how his cock grows under her foot.
With relish Alina walks over his crotch again leaving marks from the sharp edges of her soles. Bit by bit she gets into her stride. Now she stomps his genitals n smiles about his groaning while her stomps are getting harder n harder.
Then she places both heels above his vulnerable parts and lowers them painfully into his flesh. We have no idea how much of her beautiful weight she applies but look how deep these sharp heels sink down in his dick while she marches in this position. Without even looking down and without knowing if she hits his glans or his balls she plays this sadistic game.
Time to show her slave her whole weight. The Goddess places both soles on his genitals. One sole on his cock and the other one on his scrotum. Slowly she moves her whole 145 lbs / 66 kg on her victim and slowly she rolls her feet over it. From the Mistress' POV u can see what happens to his SAC. ALINA ROLLS IT LIKE PASTRY WITHOUT WITHOUT TAKING CARE OF THE TESTICLES OF THE GROANING SLAVE.
We are still talking about the beginning of this lesson. And now Alina is completely in her element. Kicks, stomps, marching over his hard flesh, more full weight standing on genitals and more painful heel impale games.
Next she focuses on his foreskin n torments it with her heels. With her sharp heel she SCRATCHES his soft skin or she STEPS ON IT WITH HER STILETTO. For the slave this must feel like being nailed on the board and the result is almost the same. Alina leaves a WOUND IN HIS FORESKIN AND RED LIQUID RUNS OUT OF IT.
No reason for mercy. Alina continues boring her heels in his cock n leaves ROUND MARKS IN HIS SKIN that you can see clearly from the Mistress POV. Yes she even HITS HIS DISCHARGING WOUND! And again he gives her slave's crotch rough stomps n LAUGHS about his groaning.
Then she comes to an end. With one foot she clamps his cock under her sole while she rubs his wounded glans under her other sole and takes him almost to the climax. The slave groans in a mixture of pain and lust and the Mistress waits for the moment right before he will shoot out his load.
But the Goddess denies him his relaxation. She steps off the board n leaves her horny and lacerated victim alone.
Size: 650 Mb
Duration: 16:24 min
Resolution: 1920×1080
Format video: WMV
Preview: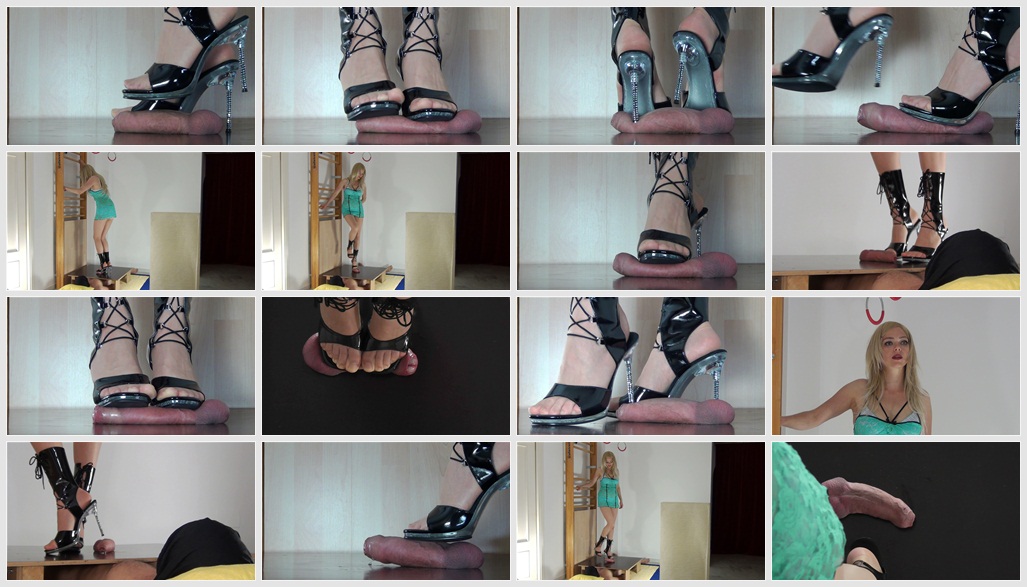 Download link:
http://k2s.cc/file/d4b5bb71bd29e/The_Hurt_Cock_Is_Denied_To_Cum.wmv
---