Secretary Alina Pierces And Crushes Cock And Balls, With Cumshot Compilation – Aballs And Cock Crushing Sexbomb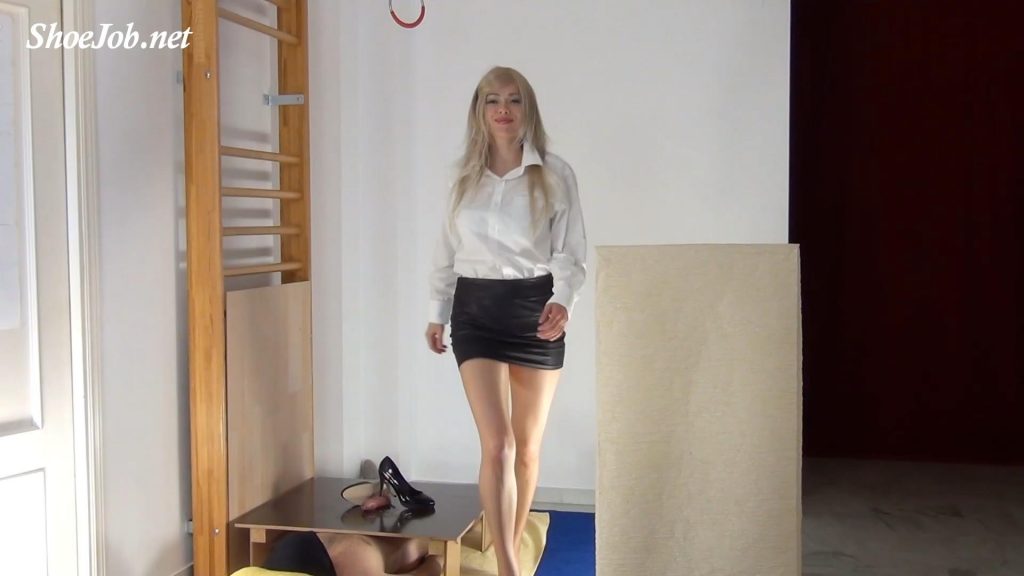 This video is full of incredible cock and ball torture scenes by awesome Mistress Alina. We could have easily made an exciting preview that takes minutes. If you like what we do, we recommend you this video.
With a pad and a pencil Alina walks through the room and steps on the cockboard. Standing there in her stilettos, shiny pantyhose, leather skirt and a bossy shirt, she is making some notes. But she is not only making notes, with her patent leather high heels she teases and squeezes her slave's genitals until they get hard. More and more Alina gets hacked off from writing and suddenly, without any prior warning she chucks away her pad – right on her slave's genitals – and in an incredible BRUTAL WAY she STEPS WITH HER FULL WEIGHT ON THE PAD AND CRUSHES HER SLAVE'S GENITALS underneath. The slave GROANS ANS WRITHES WITH PAIN but Alina is completely unimpressed. LIKE CRAZY SHE TRAMPLES HER VICTIM WITH HER STILETTO HIGH HEELS, SMILING SADISTICALLY about his pain.
She pushes away the pad with her foot and now slave's crotch is lying there unprotected at her feet and Mistress Alina will take her anger out on it. With both feet and with her full weight she steps on it and CRUSHES IT ALMOST FLAT. Then she jumps down and you see a deep FOOTPRINT in his flesh.
We're still in the beginning of this incredible session and Alina is completely in her element. CRUEL, INNOCENT, IGNORING AND ENJOYING HER SLAVE'S PAIN. Again and again she has new ideas how to tantalize her helpless victim. Look how much pressure she applies while she BORES HER MERCILESS STILETTOS IN HER SLAVE'S COCK, leaving many SPOTS IN HIS MEAT.
But then she has a very special idea. She places one heel right in the middle of her slave's scrotum right above the whole in the board and then she BORES IT INTO HER SLAVE. You won't believe your eyes how deep she presses her heel down while she lifts her other foot. HALF OF HER HEEL HAS SUNK INTO SLAVE'S BALLSAC, CAUSING INCREDIBLE PAIN. His cock bends up and with her other stiletto Alina plays with his glans, wetting it with his precum. The slave doesn't know if he is in heaven or hell. He groans in a mixture of pleasure and pain, which obviously turns on the Mistress. SEE HOW LUSTFUL SHE LOOKS AND MOANS.
Then she pulls out her heel from his sac again and watches his rock hard cock. From the Mistress POV camera you see the DARK SPOT that her heel has left in slave's scrotum. And what does Alina? She KICKS his genitals like crazy, SCRATCHING IT WITH HER HEEL.
The Goddess continues her cruel treatment and it's simply too much to describe everything. BRUTAL STOMPS, MINUTES OF FULL WEIGHT GENITAL CRUSH UNDER HER SHOES. Once she puts them off to crush her slave's dick and testicles under her nyloned feet until… OMG!
But Alina keeps unimpressed and keeps on boring her stilettos in his cock and balls, until they are CLUTTERED WITH MARKS. And for the final, Alina treats them with her famous genital dance.
With both high heels the Mistress is STANDING FULL WEIGHT ON HER SLAVE'S COCK AND BALLS and DANCES and BOUNCES in this position for a FULL MINUTE. Look how deep her soles sink down in his meat and then the slave CUMS UNDER THE FULL PRESSURE OF ALINA and SHE ONLY RELEASES HER VICTIM WHEN HIS CLIMAX IS OVER. Now the cum can run out, forming a big white puddle to the delight of the seductively smiling Mistress. The perfect puddle to be trampled under her soles and stilettos and with pleasure ALINA DESTOYS ALL OF HIS CUM UNDER HER FEET.
To complete his humiliation, the Goddess places one stiletto in slave's ballsac and undresses her shoes. Then she leaves – satisfied and content.
As a bonus, we added a CUMSHOT COMPILATION from the BEST CUMSHOT AND CUMCRUSH SCENES from all camera angles to the end of this clip.
File Size : 1.46 GB
Runtime : 26 min 25 s
Resolution : 1920×1080
Format video: MP4
Preview: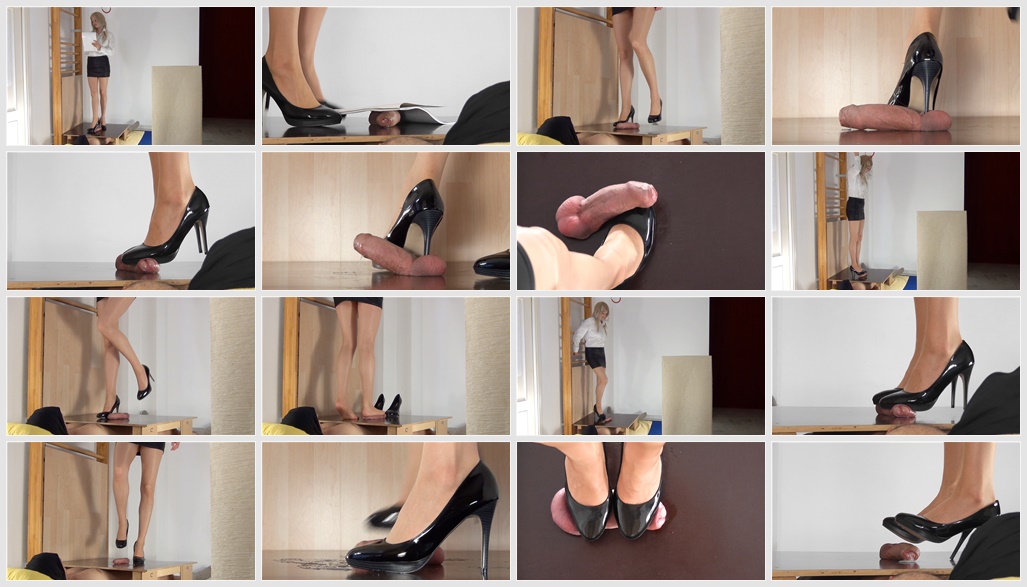 Download link:
https://k2s.cc/file/eaa978fdf76e5/Secretary_Alina_Pierces_And_Crushes_Cock_And_Balls%2C_With_Cumshot_Compilation.mp4
---