Alina In Rough Overknee-Boots – Boot Domination And Shoejob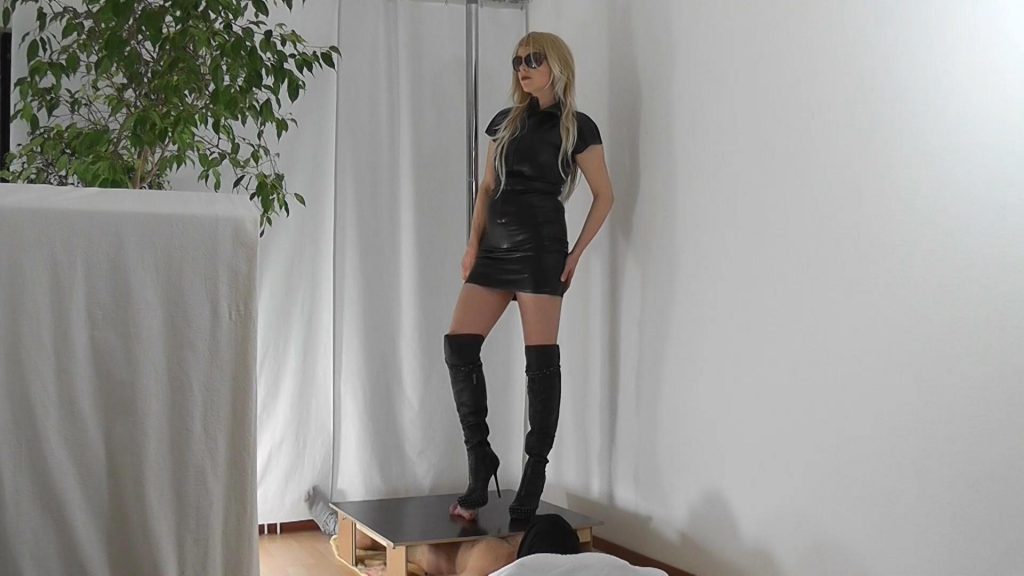 Mistress Alina bought these awesome studded overknee-boots. These boots are soft and rough at the same time. Soft for the Mistress who feels the smooth leather on her legs. Rough for the slave who will only feel the rude profile soles, the spiky heels and the cruel metal rivets on his genitals. Alina has completed her outfit with her latex jacket and skirt.
With deep respect the slave watches his Mistress when she steps on the board in these awesome outfit. One the one hand he is so lucky about the glory of this Goddess on the other hand he knows how much damage and pain she can cause with only one single step on his genitals.
Deliberately Alina walks around the pole and touches her slave's cock with her soles when she passes it. But then she starts her game. She lifts her heels over the cock and balls and lowers them until they bore in his flesh. The slave groans – yes that is what Alina has waited for. She marches in this position spiking his genitals again and again.
Then it's time to let him feel the rough soles. The Goddess rubs his crotch under the profile, and then she stomps. The moaning of her slave cheers her and she brings hundreds of stomps on his flesh. The slave is completely at her mercy and it's heaven and hell at the same time. And then Alina kicks his genitals. The metal rivets painfully clap against his crotch. But the Mistress ignores the slave's feelings. Obviously she appreciates that situation.
Alternately Alina rubs the glans under her soles and stomps his crotch until the slave is close to his climax and now the Mistress plays a game of cat-and-mouse. She keeps her slave close to the climax without allowing him to cum. Whenever the slave is close to cum she stops for a moment making her slave crazy.
Finally she goes all the way – the Goddess makes her slave cum by her stomps and while the cum runs out of the cock she continues. She dashes the cock in his own cum puddle and whenever it bounces back she treads it down again. Then in a pose of victory Alina drops her sole on his genitals causing the rest of cum to run out. Satisfied she leaves her humiliated slave.
Size: 735 Mb
Duration: 16:40 min
Resolution: 1920×1080
Format video: mp4
Preview: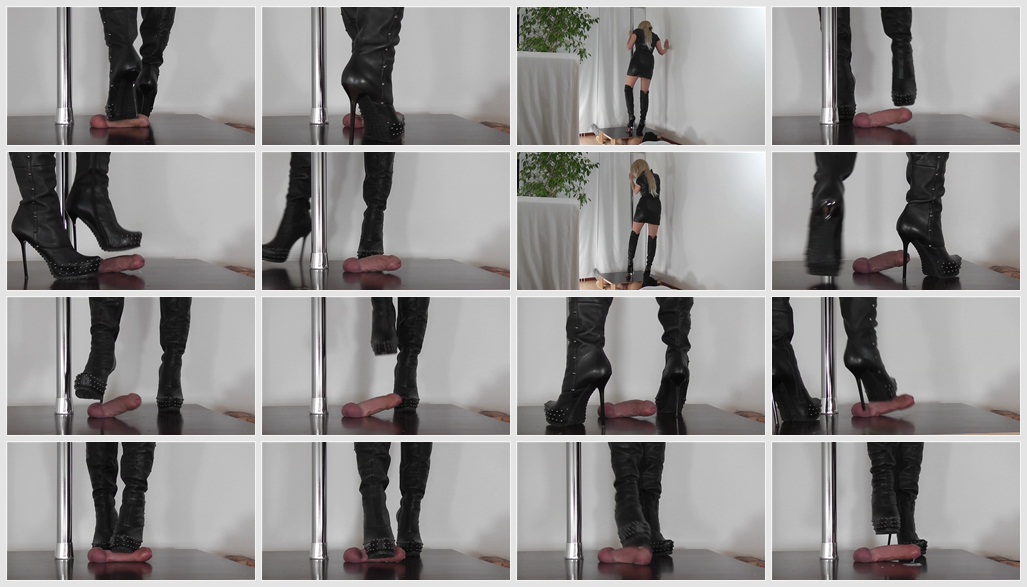 Download link:
http://k2s.cc/file/44addad81adf0/Alina_In_Rough_Overknee-Boots_-_Boot_Domination_And_Shoejob.mp4
---