French Maid Alina Milks Twice – Aballs And Cock Crushing Sexbomb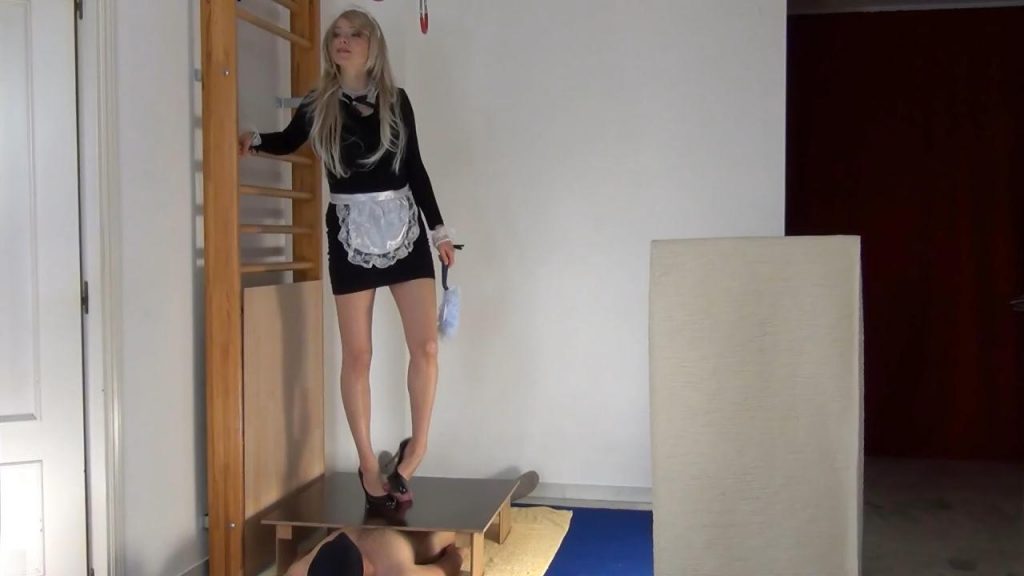 The slave has asked Alina to wear a french maid outfit and to clean the house. "WHAT? – I will wear a french maid outfit, but you'll see what I clean… GO UNDER THE TABLE, SLAVE!"
The Goddess enters the room and the slave caught his breath. She looks so gorgeous in this outfit!
She steps on the board and kneels down and with her feather duster she teases his crotch, lying there on the cock table. But then she stands up and in her black high heel pumps she walks over his meat. "This is what you'll get!"
During the next minutes she TRAMPLES HIS HELPLESS GENITALS OVER AND OVER AGAIN. She leaves BRUISES and many LITTLE BURST VEINS by her FULL WEIGHT STANDING, BOUNCING and JUMPING OFF his CROTCH.
With a bratty smile on her face she STOMPS AND KICKS HIS VULNERABLE PARTS again and again until he SCREAMS. With all of her playfulness she always has new ideas how to tease and tantalize her victim with her sharp heels or her feather duster SHE MAKES HIM TOTALLY CRAZY! Just watch amazing Alina playing carrot and stick with her slave.
At some point the Goddess will finish her slave with a UNIQUE FOOTJOB BETWEEN HER HIGH HEELS, look at this SEDUCTIVE EXPRESSION ON HER FACE. But stop! Did we say finish? The very moment the slave wants to shoot out his load, Alina stops rubbing his cock, causing him a RUINED ORGASM. She only keeps her foot in place so that HIS CUM RUNS OVER HER SHOE. The slave groans, BEGGING FOR BEING MILKED EMPTY, BUT ALINA ONLY SMILES SADISTICALLY. "No – I want you to suffer and I want more! But first I will USE YOUR FACE TO CLEAN MY SHOE!"
ALINA STEPS INTO THE CUM, crushing it under her soles and heels and the slave has to EAT HIS CUM FROM HER SHOES "I'm sure you like it… I do, lol!"
Then she takes off her shoes and pushes one heel into slave's mouth while she tramples his cum with her nyloned feet. She removes the heel again and now SLAVE MUST LICK HIS CUM OFF HER SHEER PANTYHOSE.
"I'll crush your mouth under my toes!" The MISTRESS STEPS ONTO HIS MOUTH AND HIS COCK at the same time, that the slave gasps for air. And then Alina turns to his cock again, which HAS KEPT ROCK HARD all the time. "Do you want to cum again? First you must suffer more" and the Goddess STEPS ON HIS GENITALS AGAIN.
Alina continues her cock and ball trampling lesson now in pantyhose. More STOMPS, more KICKS, more FULL WEIGHT TRAMPLING AND DANCING on the table without looking down what she crushes under her feet.
Look how red slave's dick and nuts have turned after all of that treatment. Once Alina decided to milk him empty, but another cruel idea has come across her. "What if I don't stop?… hehe"
The Mistress clamps his cock between her feet and now she rubs it with one sole on the bridge of her other foot, taking him closer and closer to his climax until he EXPLODES BETWEEN HER FEET AND SHOOTS A SECOND LOAD ONTO HER NYLONED FOOT. The slave jerks, he groans and Alina RUBS AND MILKS UNTIL HER SLAVE ALMOST CRIES. "It's so much fun dominating you like that – but I'm not ready with you – Suck your cum from my nyloned soles!"
ALINA WIPES OFF HER CUMMY FEET ON SLAVE'S FACE and lets him taste his own cum again. Then she reaches for her shoe and slips into it that the rest of his cum oozes out of her pumps. With her other foot, still only in nylon she steps into the cum puddle and CRUSHES HIS CUM UNDER HER FOOT. She forces her slave to kiss her cummy sole and then she slips with her wet foot into her second shoe and now she is standing there with cum covered feet in pantyhose and high heels.
The Goddess crushes the rest of his cum under her pumps and then she leaves her humiliated victim.

File Size : 843 MB
Runtime : 39min 33s
Resolution : 1280×720
Format video: WMV
Preview: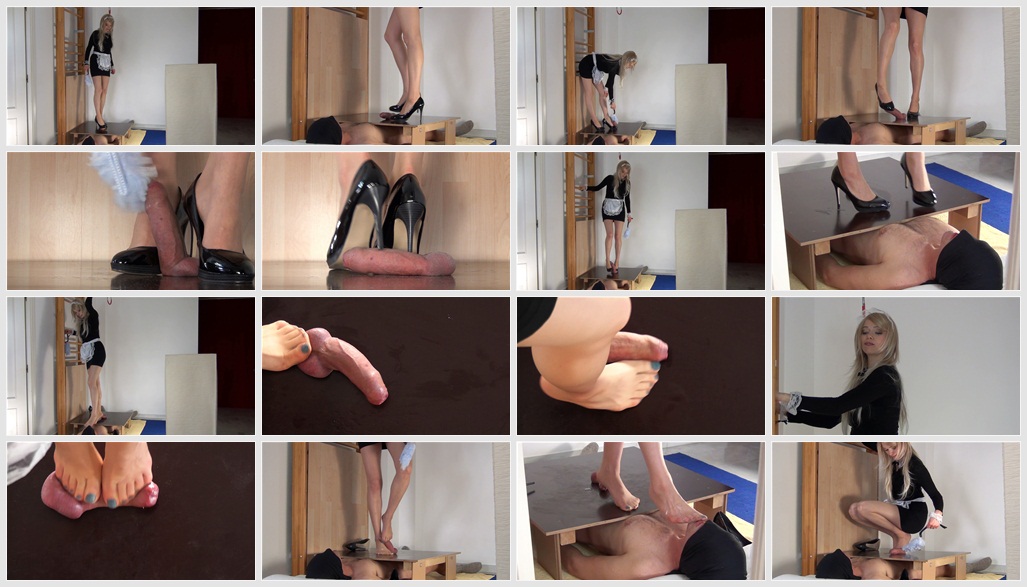 Download link:
https://k2s.cc/file/2de56762cdbb3/French_Maid_Alina_Milks_Twice.wmv
---