CBTrample – Mush under Alina's Chucks – Aballs And Cock Crushing Sexbomb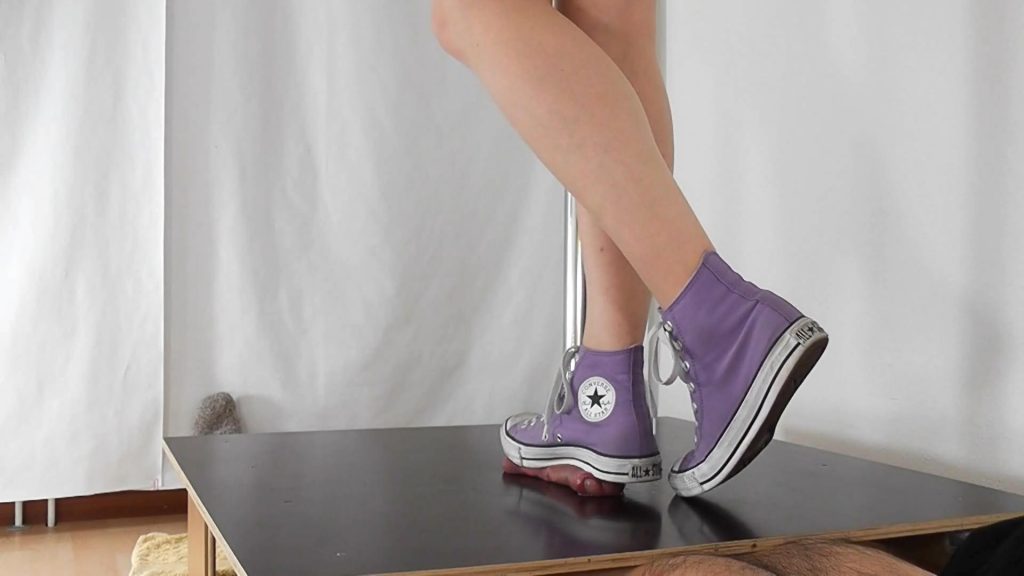 As our first Converse video has been so successful and so many people have aked for more of them, we have made a second video in these shoes. This time from two close camera angles and one of them is so close that you can see every little goove that these shoes leave in cock and ball flesh and every little vein that breaks.
Alina has worn these shoes a lot and meanwhile they are really well used and dirty from the street.
The Mistress walks around the pole, crushing the slave's genitals whenever they are in her way. She grinds his cock like a cigarette, stomps it hard or she just steps on it with her whole weight.
The longer this session lasts the more red turns his crotch the more bruises and little broken veins come out. Again and again the shoe print caused by Alina's weight changes. More and more precum is squeezed out by the permanent pressure.
Endlessly Alina bludgeons her slave's genitals. She hardly gives them time to rest. She rubs them rough under these profile soles and ignores the permanent pain that she causes. And of course she remembers her first video in these shoes and she wants this powerful feeling again.
This time Alina places her heel right on his glans and her toecap right over his balls a€" so far that she cannot see his scrotum. And then she moves her whole 145 lbs on his genitals. Her shoe completely covers them. No way to escape, no hope for mercy, the cruel Mistress will not even notice any destruction that she might cause.
And Alina stays in this position a€" no she bounces. The slave groans in a mixture of devilish pain and excitement. Mercilessly his balls and his cock are being flattened under the full pressure of the Goddess. Will his genitals burst or will they climax?
Deeper and deeper Alina subsides in her slave's flesh a€" it's incredible how flat these genitals have become and then suddenly under intense flinching the slave cums. Now Alina enjoys it again. The feeling of cumming genitals under her Converse soles with her full weight on top. SHE GOES ON BOUNCING, FLATTENING THE CUMMING CROTCH INTO NOTHING!
Finally she steps off and only now when she releases her weight the cum can flow out and the destruction becomes visible. A DEEP SHOEPRINT ADORNS HIS DARK RED GENITALS. Alina watches the result of her crush and then she decides to go on with her decoration. She steps in the cum puddle and twists in it crushing even her slave's cum. The cum spatters around and ALINA LAUGHS. Then she steps with her cum soaking sole on his crotch and covers it with it's own sperm. Yes this is what Alina wanted to see. A mush heap on the board….

File Size : 767 MB
Runtime : 17min 19s
Resolution : 1920×1080
Format video: WMV
Preview: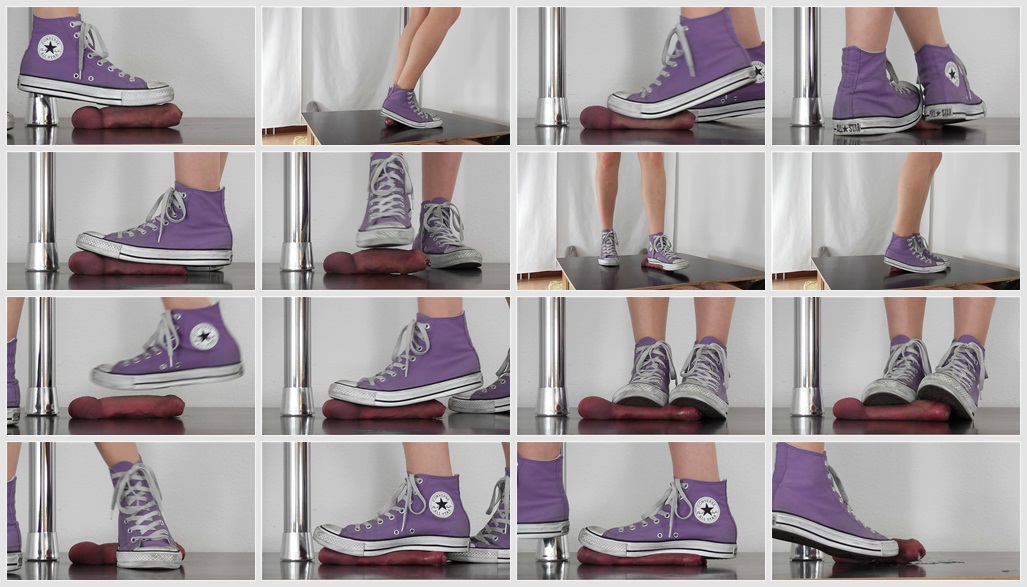 Download link:
https://k2s.cc/file/29b6525382bc7/CBTrample_%E2%80%93_Mush_under_Alina%E2%80%99s_Chucks.wmv
---