Sexy and Cruel Cock and Ball Trampling – Sara Alfaros in laced Wedges Boots – Aballs And Cock Crushing Sexbomb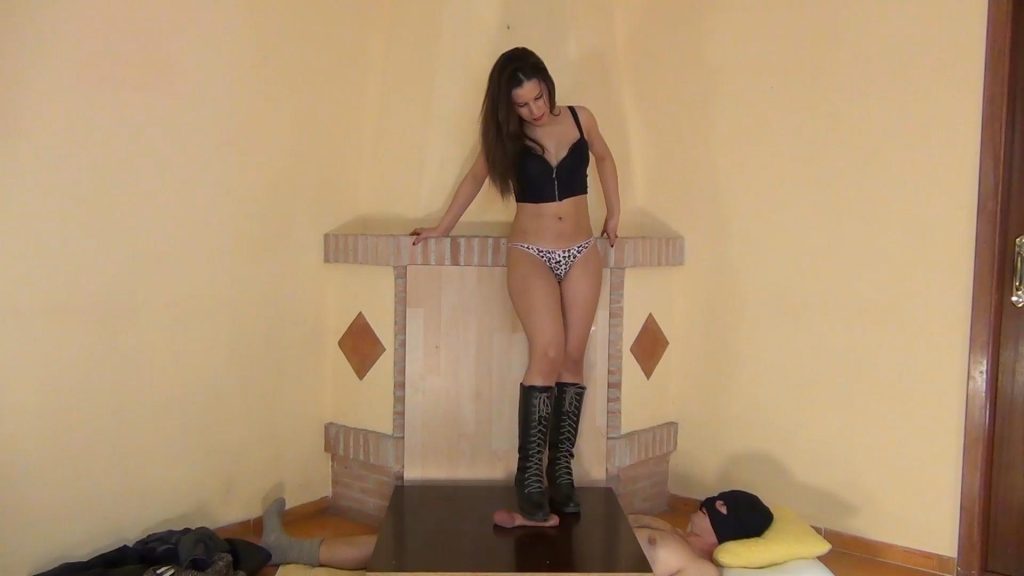 Mistress Sara has has commanded her slave to take his place under the cock board. She comes just from the street and her victim is already waiting for her. Without wasting any time she steps on the board, still wearing a black jacket, riding trousers and her well worn laced wedges boots.
She circles around her slave's helpless genitals, she touches them with her boots and quickly slave's cock gets hard. Then she bores her heels into his flesh. Right heel into his cock and left heel into his ballsac – and then she bounces. The slave groans – what is going on here? She has just begun.
Sara steps off and places both toes of her shoes on his manhood. Then she steps on it with all of her weight. She squats up and down and she marches full weight on his crotch – only for 20 seconds but after that slave's cock looks like a barbecue sausage. Please note, we're in minute 3 of a 30 minutes lesson!
What follows now is a fireworks of sexual attraction and pain. The Goddess undresses her jacket – she is only wearing a black zipped bustier underneath. With sexy movements, ass shaking, soft touching of the most sensual points of his genitals Sara turns her slave on.
And within the blink of an eye she turns to a furious cock and ball destroyer who shows no mercy about his vulnerable parts.
Sara stomps his meat like crazy. She tramples it under her heels and she steps on it with all of her hot weight so many times. She bounces on his genitals, she does gymnastics, she dances. All full weight and he must take it all.
After a while the Mistress takes off her boots and throws then on his upper body. She has to smile as they almost hit his face. Then she steps on his cock and balls with her bare feet and strips her trousers. She is wearing a sexy thong underneath and now she shows us her awesome bottom.
But not too much joy for the slave. Sara torments his balls with her toes. She stomps him so hard and then she even jumps on his manhood.
Enough of this barefoot intermezzo. The Goddess sits down on the board and puts on her boots again. She clamps his face between her boots and shows him, who rules.
Then the Mistress stands up again and if you think she was cruel before, she will show you now what it means to be at her mercy. Without a qualm she crushes his balls under her wedges heels and all the time she shows off her sexy bottom.
With her right foot she steps on his cock and with her left foot on his ballsac then she zips her bustier a bit, but she looses balance and almost ruptures his balls. She doesn't care – look what she does now with his cock – she almost cuts it off with one heel.
The Mistress turns around and now she tenderizes his meat like a cotlet – many stomps and then some special brutal ones with a mean expression on her face – she only smiles sadistically as she hits his balls.
The time has come to give him the rest. Once more she steps on her slave's cock and balls – look where she has put her left shoe. It almost covers all of his scrotum and then she steps on it and squats down. The slave screams – it feels like his nuts would pop any moment!
Sara releases him for a moment but only to take the same position again and this time she will show no mercy. Full weight she keeps on his cock and balls – Either you cum or I'll crush you genitals under my boots.
The cruel Mistress bounces, she rolls back and forth, she squats up and down, she shakes her ass and after a bit more than 30 seconds she has taken him to his orgasm that way.
And now she does something that we have never seen before. She keeps on dancing and bouncing on his cock and balls during the whole orgasm and even when his climax is over she doesn't think about releasing him. Slave's cock is going limp and the softer it gets the deeper sinks the Mistress down in his meat. Look how flat is his cock now!
Then she steps off and finally the cum can run out of what is left from his cock. And Sara still doesn't care. She stomps out all of his cum.
The slave is totally drained. The Mistress has frazzled him out. He is only lying there and hopes that she is finally finished.
Well – almost – She only crushes all the cum on the board before she leaves.

File Size : 1.28 GB
Runtime : 29min 36s
Resolution : 1920×1080
Format video: MP4
Preview: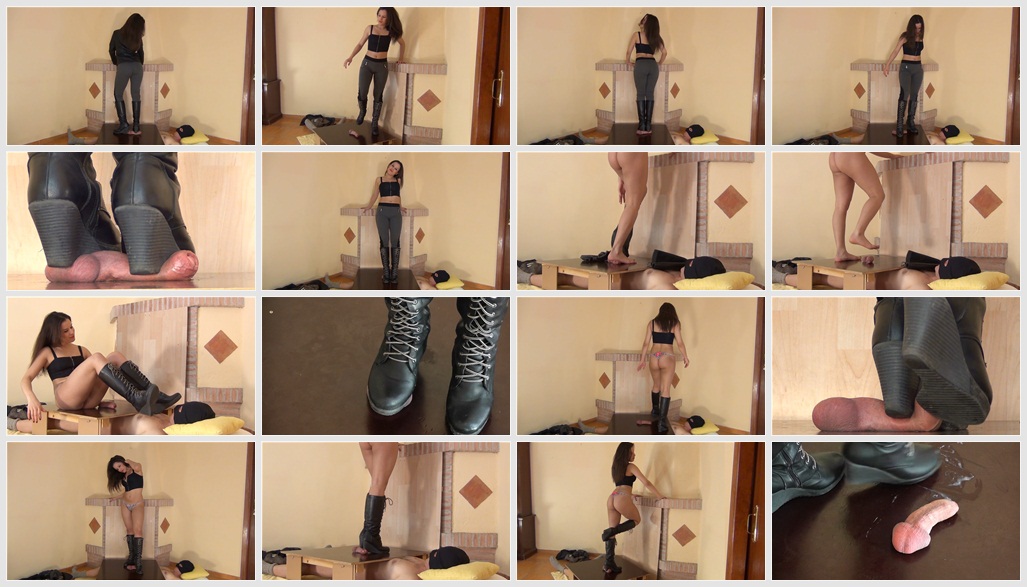 Download link:
https://k2s.cc/file/caad19f858d74/Sexy_and_Cruel_Cock_and_Ball_Trampling_-_Sara_Alfaros.mp4
---