Kicking, Trampling and Milking a Cock inside High Heel Sandals by Sara Alfaros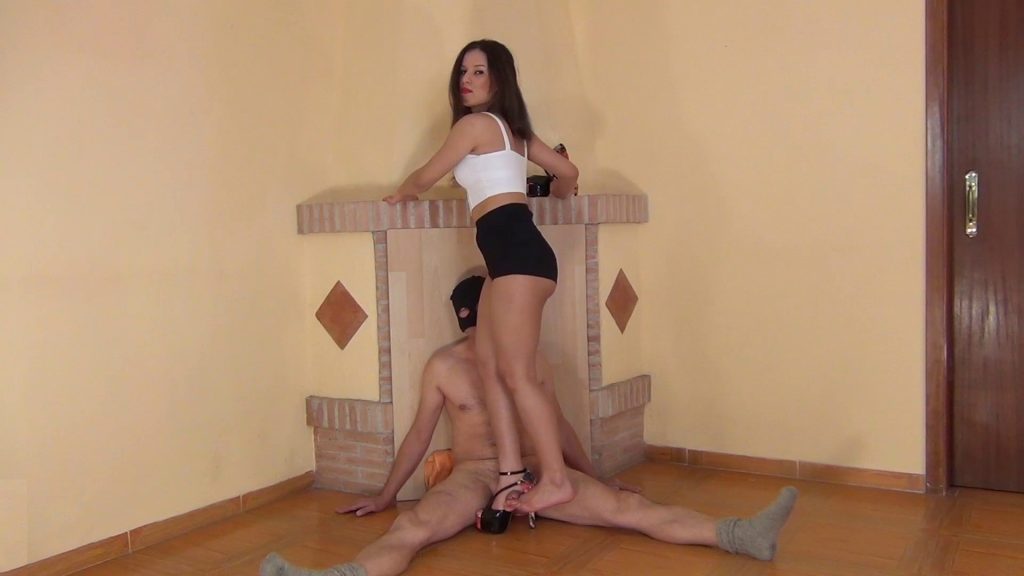 Mistress Sara must have had a really bad day and she has decided to weak her anger on her slave. She has ordered him to sit down on the floor, to spread apart his legs and to wait for her.
With a stern face she enters the room. In dangerous high heel sandals, hot pants and a zippered bustier.
With her shoes she strokes his body and his genitals. She forces him to kiss her legs and feet, to lick her toes and then she presses her hot ass in his face and moves it in circles. She turns him on and makes him crazy. His cock has become rock hard – that's what she wanted. Let's start playing.
The Goddess steps between slave's open legs – and kicks him in the groin – and again – and again – and again. She turns him on a bit more. Now she circles her pelvis right before his face. She strokes him with her legs and feet and then she kicks him again.
Sara must have scratched his cock with her heel. A bit of red liquid runs out but she doesn't care. She squats down and takes off one shoe and now she rubs his cock between her sandal and her barefoot sole. She forces him to kiss her foot before she squats down again.
Now she opens her other shoe and pulls her slave's cock inside her sandal. Then she closes the strap again so that his cock is caught inside her shoe under her barefoot sole. She lifts that foot stomps it down in a rough way and steps on his cock with all of her weight.
Without leaving him time to breathe she bounces on his cock, ignoring his whimpering. Still standing on his cock she plays with her other foot with his balls, then she releases her weight for a moment and stomps again.
The slave will have to take this treatment for the next 9 MINUTES. Just with a few little interruptions SARA IS STANDING ALL THE TIME FULL WEIGHT ON HIS COCK.
But she is not only standing there, she bounces yes SHE EVEN JUMPS WITH HIS COCK INSIDE HER SHOE – LANDING FULL WEIGHT ON IT each and every time.
Sara licks her fingers and spits some saliva on them, she bends down and creams his penis top with her saliva. Then she rubs his glans with the toes of her bare foot while she is still standing with her heel on his shaft. The slave is somewhere between heaven and hell. On the one hand it feels like his cock will crack any moment from the permanent pressure, on the other hand he is stimulated by her toes on his glans.
He suffers endlessly!
Then finally Sara takes him to his climax. He jerks, he moans aloud, but from the pressure on his dick his cum cannot run out. And Sara stays strict and ruins his orgasm.
When it seems like his orgasm in over she finally releases him for exactly 4 seconds. Enough to shoot and a big stream of cum on her foot. And then she steps on his cock again and slave's orgasm continues.
He is screaming now, but Sara doesnt think about stepping off. He must endure her weight almost one full minute more and even though his orgasm is over now his dick doesn't get small. It can't because Sara causes a stoppage.
With relish she wets her foot with his semen on the floor, ignoring all of his whimpering. And then she finally steps off. She opens her shoe and pulls out what is left from his cock.
The slave thinks that he got through it somehow, but he was wrong. Sara isn't ready. In much better mood than before she dances in his cum, crushing all of it under her barefoot soles. And then she gives him some more mean kicks in the groin. Now she is done!
Size: 1,1 GiB
Duration: 25:14 min
Resolution: 1920×1080
Format video: mp4
Preview: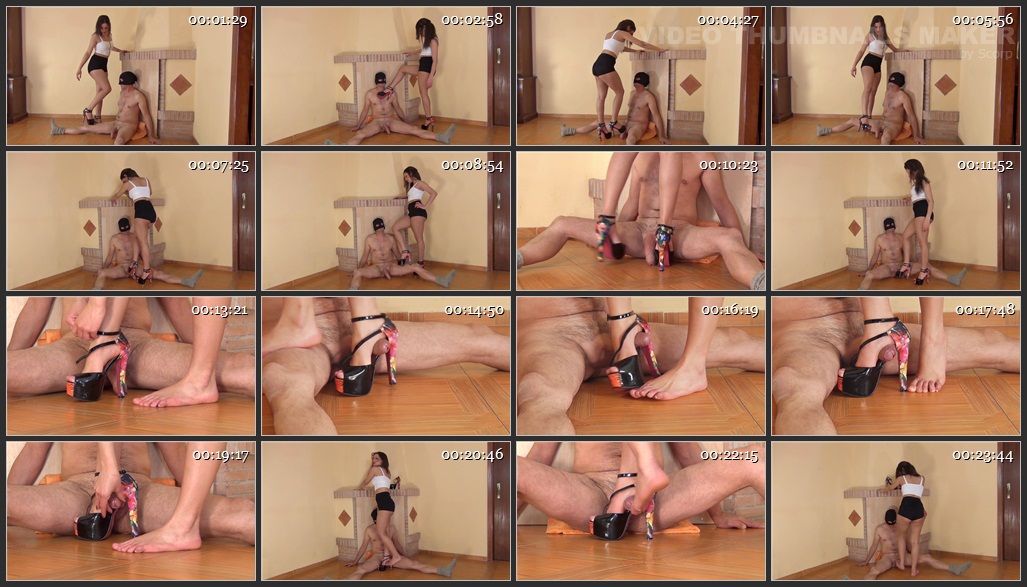 Download link:
http://k2s.cc/file/88461e18fc0e3/Kicking%2C_Trampling_and_Milking_a_Cock.mp4
---