Trampling Footjob Inside Shoe, Ballbusting, Humiliation By The Strict Mistress Lara Cuore – Aballs And Cock Crushing Sexbomb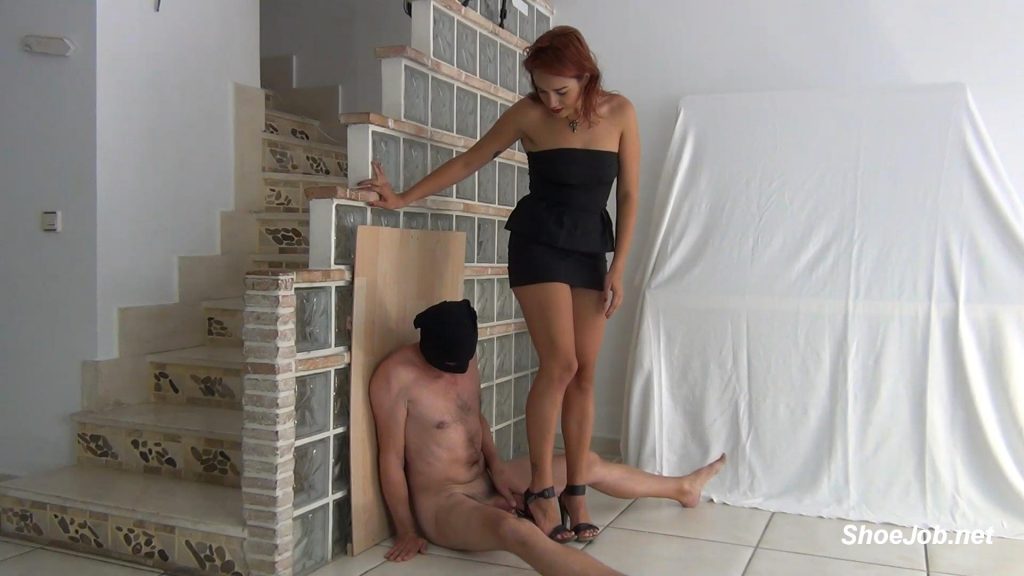 Mistress Lara is wearing a very short, black dress, wooden high heel sandals and a leather necklace and today she has something very different in mind.
She has ordered her slave to sit down on the floor and to spread his legs. With strict footsteps she walks towards her victim and starts to tantalize him. Endlessly she kicks his cock and balls, she bores her heels in his breast until he groans aloud and then she kicks him in the groin again. Stronger then before, giving him winces of pain.
"Look at me! I want you to put your cock inside my shoe!" And she opens her shoe a little bit and he must put it right under her heel.
His foreskin slides back and his unprotected glans is somewhere between her foot sole and the inside of her shoe. Now Lara steps on his manhood with all of her weight – the slave groans and squirms with his cock in her shoe.
But Lara keeps strict. With powerful stomps she clomps his cock so painfully.
"Your cock has slipped out a bit – push it deep inside my shoe! – Good boy!" And then she continues stomping and squeezing his dick brutally.
"Now I want to play another game. Put your cock here inside my shoe – in the middle." And Lara lifts her foot to allow him to place it under her midfoot. Then she steps on it and rises her other foot. "Take off my other shoe and kiss my foot!"
He must kiss her foot while Lara is standing full weight with the other foot on his cock. And then Lara removes her foot from slave's mouth and starts playing with his glans that sticks out from her shoe.
To lubricate everything Lara spits on her foot and now she rubs his penis top with her saliva.
For minutes she rubs, kicks and teases his penis top all the time standing on his shaft. The slave whimpers but Lara is determined to finish him that way. I won't let you free before you cum. And after a while slave's whimpering changes to moaning and he reaches his climax.
He jerks and groans but no cum runs out. Lara clamps off his urethra. Only when his orgasm is over she releases him and now a stream of cum runs down on her toes.
"Take off my other shoe!" And next Lara creams both of her feet sensually with his semen. The slave thinks he has weathered the storm but Lara gives him a final hard kick in the groin. Then she leaves him.
Categories: CBT, Ballbusting, Footjob, Trampling, Shoejob, Female Domination, Cockcrush, Foot Slave Training, High Heels, Barefoot, Giantess, Legs, Humiliation, Executrix, Femdom, Home-Wrecker, Ruined Orgasms, Cumshots, Post Cum Torture and more.
File Size : 1.39 GB
Runtime : 22min 45s
Resolution : 1920×1080
Format video: MP4
Preview: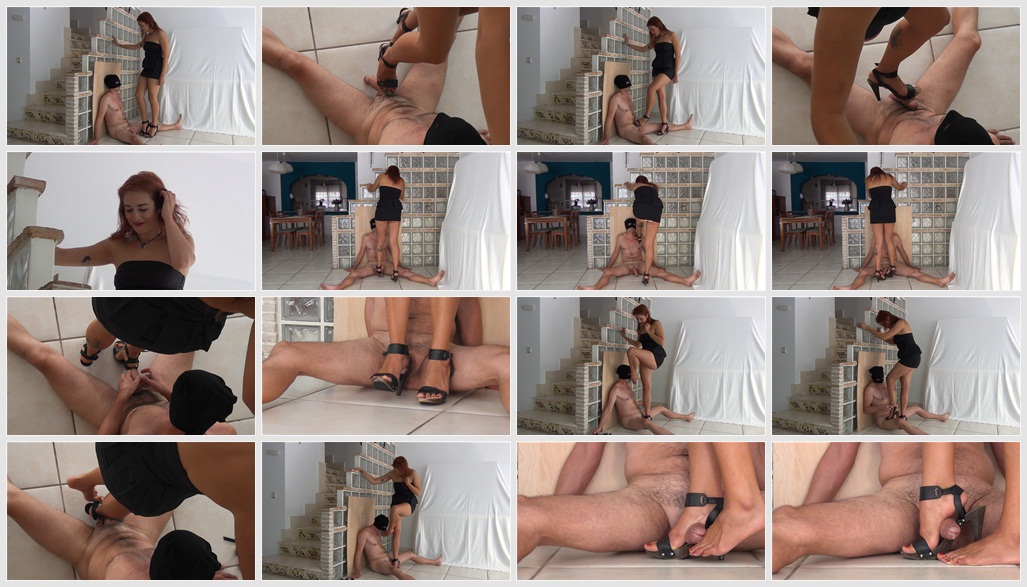 Download link:
https://k2s.cc/file/19c066688206a/Trampling_Footjob_Inside_Shoe%2C_Ballbusting%2C_Humiliation_By.mp4
---