Painful Cock and Ball Trampling in Wedges by Sara Alfaros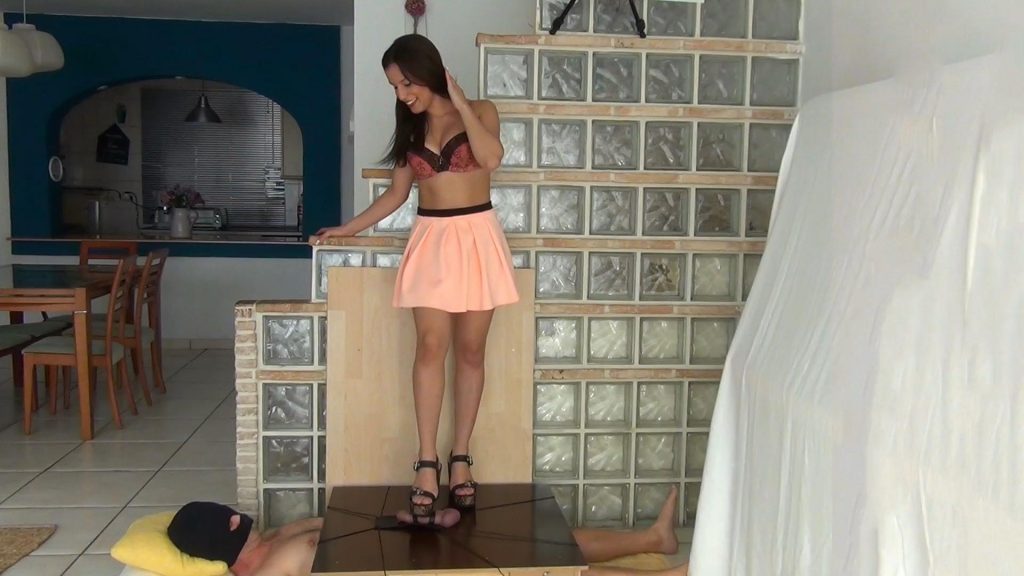 Mistress Sara has come in hot bra, short skirt and some high heel wedges to her first solo session. Look at this stunning, well trained body.
Before this session Sara has ordered her slave to take his place under the board and to fix his cock with leather stripes to keep it in position for her. The slave is so excited about his new Mistress that his cock has got rock hard – just from seeing her.
Sara walks down the stairs, steps on the board and looks at her helpless slave: "Let's play a bit!"
Now as she has the slave for her own she shows her dominant side. Without blinking an eye she places both of her heels on slave's manhood and starts marching. The sharp edges of her heels bore into slave's meat, he whimpers, he groans, but Sara even applies more weight – we didn't expect that she was so cruel, but that was just the beginning.
Lara has shown Sara how to place the heel on the ballsac, but Sara want's to see what happens, if she places her heel right on one of slave's balls. Before the slave has understood what is going on, she lowers her heel ruthlessly that slave's left ball almost cracks. The slave screams aloud, but the Mistresses just laughs. Now he whimpers and for the rest of this session his left ball will hurt like hell.
But Sara doesn't care. With both shoes she steps on his genitals. And then she marches, bounces and dances FULL WEIGHT on his cock and balls – Ignoring his snorting.
From the Mistress POV camera you can see how much she has abused his crotch. It is studded with scratches and furrows. Sara must have seen that, but totally unimpressed she continues.
"Kiss my shoes! – One kiss here – and one there…" And then she turns back to his genitals and stomps them as if she would pound meat. Obviously she really has fun tormenting her slave like that. She smiles into the camera while he suffers under her treatment.
Sara turns around and again she places on heel on his ballsac, but this time she places the other one on his dick and then she applies so much of her beautiful weight that it really hurts badly. But that's not all: With her sharp heels she bounces on his genitals. With one wrong movement she could castrate him!
The slave whimpers and groans but Sara is merciless – and while she bounces she lifts her skirt a bit showing us her hot bottom – the slave is somewhere between heaven and hell. She turns him on so much and she makes him suffer so much at the same time.
When he is close to cum, the Goddess stops and turns to his face again. "Lick my toes – you don't reach them – he?" and then she turns back to his cock. Now she rubs it under her sole, giving him a wonderful shoejob.
"Are you cumming?" "Yes Mistress" "No!" Sara stops "I'm leaving you now – bye bye!" And then she leaves her horny slave alone under the board.
Size: 737 Mb
Duration: 16:42 min
Resolution: 1920×1080
Format video: mp4
Preview: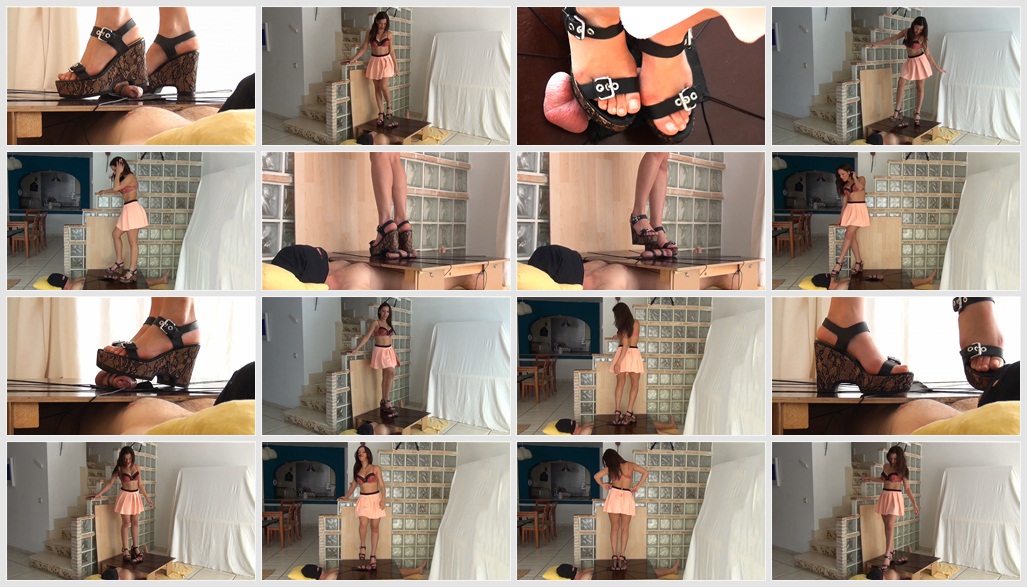 Download link:
http://k2s.cc/file/aa1a558e18f50/Painful_Cock_and_Ball_Trampling.mp4
---