310 The Tipsy Parade – Angel The Dreamgirl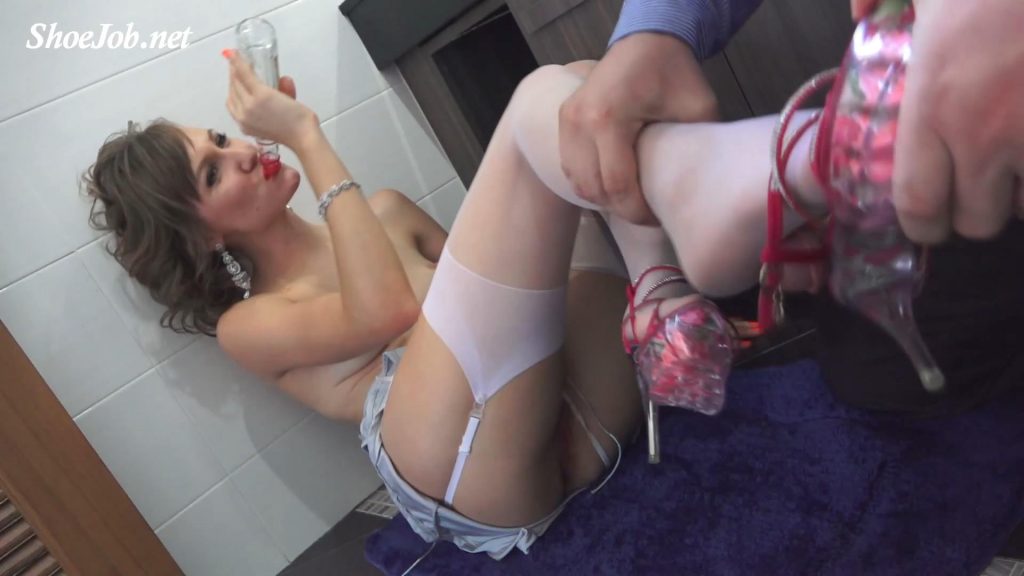 310 The Tipsy Parade – Angel The Dreamgirl
The wife of Mr X is preparing to go out for shopping and to do many expensive purchases… But first Mr X wants to have some fun with her. He explains her that she can have a lot of money from him but she must : – First have an exaggerated make-up to express that she is proud to be the wife of Mr X. Her lipstick is very bright. Painted toe nails and fingernails are in intensive orange. She wears original long and brilliant earings. Hairdressing l ike in your clip The real car punishment. No glasses, no scrotches.
– In a second time try different varieties of nylons with different varieties of shoes. At the beginning one can see Kate totally nude put no bra but a tiny panty. She puts on then your beautiful dress from the clip Do not tell anyone: A dirty little secret. Then she begins her make-up facing the mirror in the bathroom. Mr X comes and pours her a first drink to absorb in only one shot. He says "that is "liquid courage". She must drink it regularly to help her for her fashion show and so that she will be in a good shape for her following luxurious shopping". She claims : "to be in a good shape ? , Ok.
Her wife is greedy and wants absolutely to get a lot of money so she is drinking it whithout problems. But at the end of her shot she coughs a little and claims "that is strong alcohol". After that she finishs her heavy make-up. Mr X comes again and pours her a second drink to have in one shot. After this second shot she begins to laugh stupidly. Then she goes to the bedroom and puts the very sheer blue stockings (clip The Detective Kate: Trapped and humiliated ) with the wedges of the clip Student get an A… and a Tipsyen fuck. Third drink poured by our Mr X and absorbed in one shot by Kate. Then Kate get a strong hiccup. So she begins her fashion show though the room in front of her husband, giggling, hiccuping and with a regular staggering in the room. Then she must try black stockings (no reinforced toes) with garterbelt with the high heels sandals from the clip The new lady Tipsyen and fucked. Before this new parade she receives a new drink (the fourth) to drink directly in one shot. She becomes seriously Tipsy . She does her parade laughing loudly and hiccuping and now stumbling in the room. She begins to have a messy behavior, one of her nipples get out of her bra. She need sometimes to rely on fournitures
Then it time to put very sheer white stockings (no reinforced toes) with garterbelt and the high heeled sandals from the clip Footjob with stockings in public. She has many difficulties to put them. During this time Mr X pours her again a shot (the fifth). She has big difficulties to stand up, must sit again and succeed finally to stand up. Staggering, she claims 'I'm completely Tipsy"and laughs like crazy. For this last parade Mr X makes her drink a large swig directly from the bottle before she starts and he orders her to keep drinking regular sips from the bottle. One can see her wife drinking walking and stumbling in her high heel sandals with a messier and sluttier behavior. Completely Tipsy she needs more and more to rely on wall and furnitures.
Pretexting that she must rectificate her make-up Mr X orders her to go to the bathroom to do it. Kate is always stumbling on her high heels with her bottle in the hand. Once in the toiletts he puts her against the sink and put her topless. The only reaction of his wife is to laugh drukenly. Then he is first fondling her breast then he takes her from behind always fondling her breast. His wife is always drinking from the bottle, ever giggling and hiccuping. Some close-up at your shoes and nyloned toes are desired at that time. At the end he puts her on the floor on a carpet (or on a sofa, I let you see what it as the most practical for your play and the lighting). He orders her to do him a shoejob. He is sometimes putting and masturnating his cok between one of her feet and one of her high heel sandals. She let do him, try very drukenly to help him always taking swigs from the bottle. One can see her Tipsyenly giggling and hiccuping face with close-ups when she drinks during the shoejob and close-ups also of the shoejob. Then he ejaculates on her nyloned feet always in shoes. He helps her to stand up (the bottle remains on the floor), give the important promised amount of money and one can see her topless stumbling, hiccuping and giggling in the room in the direction of the door with the bank notes in one hand,. For the last time we have a close-up on her nyloned feet in shoes recovered with cum.
The usual details (already known by you I am sure) : As you did perfectly in your precedent drinking clip it's important to always being giggling and hiccuping. As your Tipsyenness your laughing must becoming crazier and noisier. I' will be the same for the sex scenes (crazy laughing, strong hiccups with some close-ups on your beautiful giggling and hiccuping face). It's is important to have regular close-up on your feet and five colored toes in yours sandals. It will be also valid for the sex scenes. Differents scenes of stumbling should last a while and on full lengh. One can see your entire body from head to feet, only from time to time your nyloned feet in your high heel sandals.
File Size : 1.82 GB
Runtime : 29 min 56 s
Resolution : 1920×1080
Format video: MP4
Preview: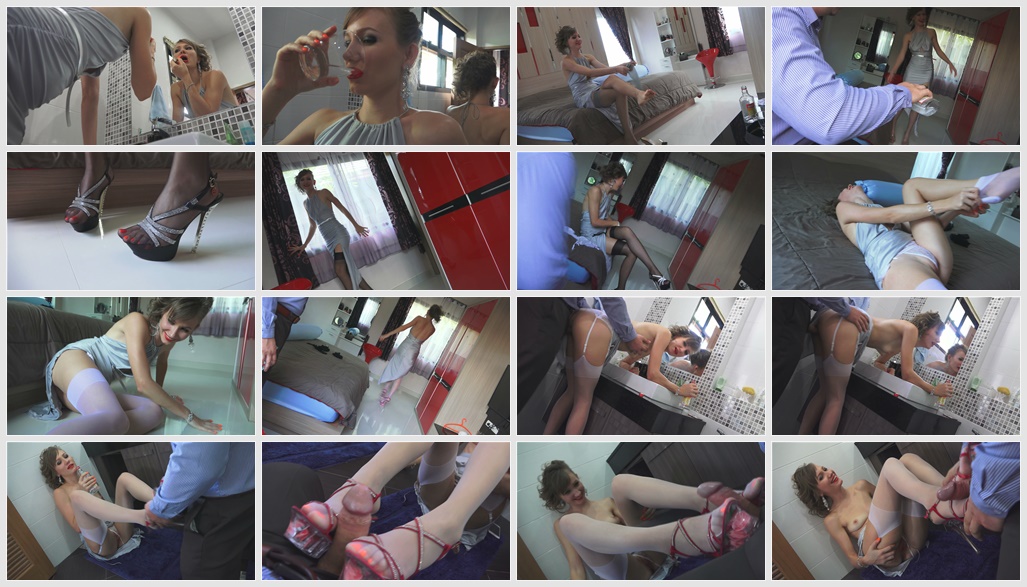 Download link:
https://k2s.cc/file/6daaaa2a27ef2/310_The_Tipsy_Parade_-_Angel_The_Dreamgirl.mp4
---