Lady Latisha Extreme Sadistic Heel Insertion & Cruel Trample Cock Crushing Clip 5 – Cut Of Two Views!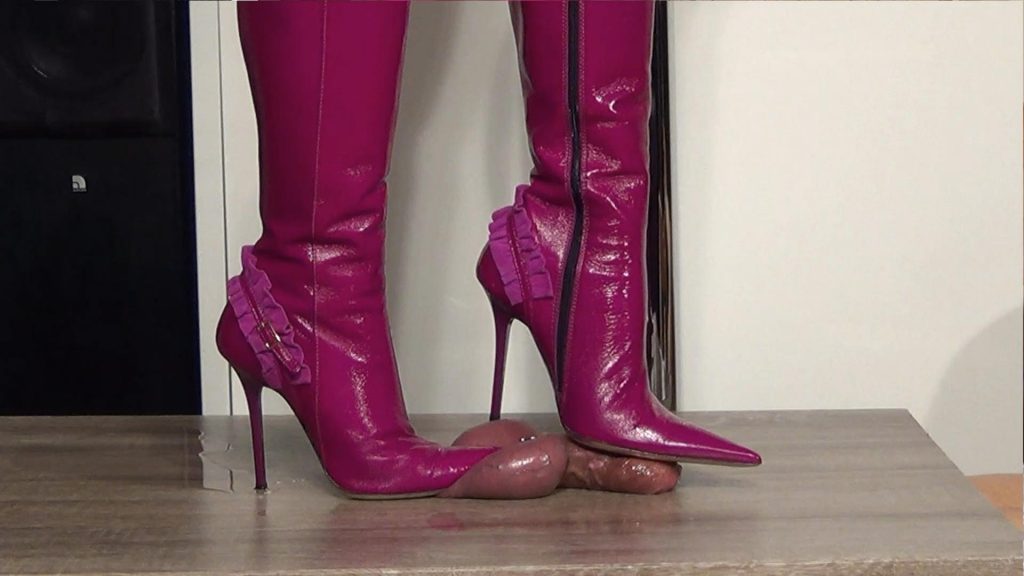 I wear a very feminine, black leather jacket, a very hot, black leather hotpants and sexy purple leather high heels stilettos boots, the brand LeftAndRight. I feel in this outfit very sexy and dominat and my slave will worship me.
Under the COCKBOX is my slave. His genitals are now crushed by me, with my stiletto high heels boots. I love to torture my slave in this way.
I'm on the COCKBOX and stand with a boot to the testicles of my slave. I look at my slave and humiliate him contemptuously verbal. I let me first worship and then I start with the other boots, the shoe sole soft on his cock to rub. That makes my slave very horny and I enjoy it, how pathetic is my slave.
It inspired me, always fixed to rub. I start in his testicles to trampling. Also on his cock trample I always fixed. I want to prepare my slave more pain. I rub now with my heel on the head of his penis. Before I torturing him more, I turn around and show my slave my ass and let me admire. Now I trample with my heel on his cock. I enjoy the feeling of my power. I want more. . .
So I bring my heel into his urethra. I love to introduce my heel in his urethra, again and again. My slave moans and I enjoy my dominance. To torturing my slave even more, I stand on one leg while I'm stuck with my heel in his urethra and I rub with my other boots on the tip of his penis. I put trample also with the other boot heel on his cock while I was with the other boot heel in the urethra. I trample purely with my heel in the urethra.
I'm in my element and can not stop doing, to humiliate my slave in this way and hurt him prepare. Only when a drop of bl__d running from his penis I've had enough. I will be merciful and reward my slave now gets a shoejob.
I rub firmly with my shoe sole of his penis and press my shoe sole firmly against the tip of his penis. It flatters me a lot as my slave has an ejaculation under my shoe sole. This is sheer female dominance for me and I love the feeling!

Size: 926 Mb
Duration: 18:01 min
Resolution: 1920×1080
Format video: mp4
Preview: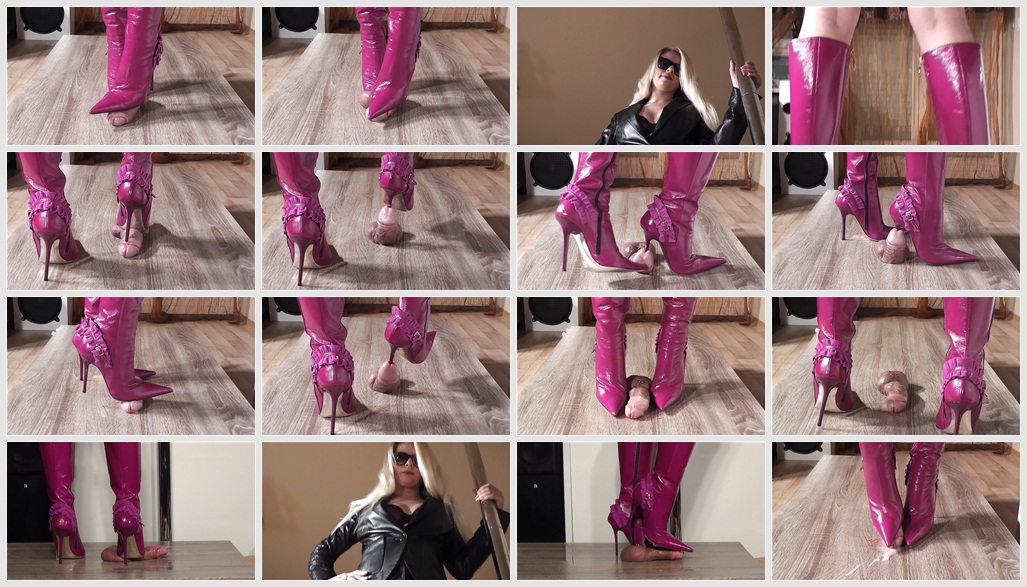 Download link:
https://k2s.cc/file/5a617b2c3fc24/Cruel_Trample_Cock_Crushing_Clip_5.mp4
---